Assisted Living
With your loved one's best interests at heart, our Assisted Living program in Salt Lake City, UT, offers a thoughtful blend of independence and assistance. We offer every amenity and convenience needed to enjoy more flexibility and control over how they live their retirement years without ignoring their needs for extra help with daily struggles. All in a home-like environment where other residents become new friends, and our staff becomes more than just caregivers.

The gratifying Pacifica Senior Living Millcreek experience starts with an in-depth interview conducted together with all the parties involved in the decision-making process. Covering every topic from healthcare needs to preferred hobbies and activities, these assessments are used as a foundation for the personalized care plan we create for everyone who joins our community. After that, our compassionate staff, together with the licensed nurse, monitors your loved one's needs and, if necessary, adjusts the care plans to match the increased demand for more help.

Our residents are not only welcome to make full use of our attractive amenities, but they are encouraged to do so. They can get a mini manicure or a new hairstyle, play bingo, work on their DIY skills, enjoy a pleasant stroll or join one of our numerous monthly events, to mention a few. For additional peace of mind, our caring but non-intrusive staff will be ready to step in and offer any support necessary at any time.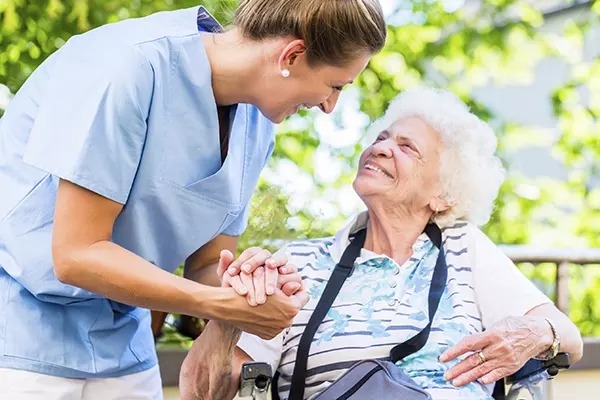 Tailor Our Care Options to Fit Your Unique Needs
Residents in assisted living have full access to both our restaurant-style dining room and our intimate and private dining room. Just outside, they enjoy a beautiful backyard patio with a garden bursting with color. Patio seating is abundant and encourages interaction for making new friends.
Below are just a few of our many amenities for assisted living residents, call today to find out more!
Assisted living program without having to move
Extensive activities program
Delicious chef-prepared meals
No long-term lease or buy-in fees
Housekeeping & laundry
Month-to-month rent
Dedicated, 24-hour staffing
Full-time licensed nurse on staff
Pet-friendly
Get in touch with our team to learn more about our Assisted Living program in Salt Lake City.