About Us

What Drives Our Communities
At Pacifica Senior Living, our mission is to do what we love and what we truly believe in: providing compassionate, personalized care services with dignity and respect. As we approach 90 communities and find ourselves at No. 20 on Argentum's list of 150 Largest Providers, we are humbled to have the opportunity to serve the many thousands of residents who have chosen to make our communities their home. We warmly welcome each resident to our Pacifica family, and we view it as a tremendous honor that we can meet their needs – ranging from Independent Living and Assisted Living to Memory Care.
As we continue to press forward with our battle against COVID-19, we remain focused on elevating the quality of the lives of each of our residents while striving to protect them from this virus, to which they are particularly vulnerable. We will continue to press on, remaining resolute in our efforts to expand our ability to meet the needs of even more seniors, while remaining true to our mission and grateful for the many lives we have the privilege of serving.
Our Lynnwood Neighborhood

Staying Connected
A strong sense of community and connected to the local area helps create feelings of belonging and ownership in our lives. This is why we offer weekly trips into town to support local businesses, try new foods, and participate in community events in the Maple Park and Meadowdale areas. The Edmonds Waterfront Center and Lynnwood Recreation Center offer a variety of classes and activities. For shopping, we like to visit Alderwood Mall, Trader Joe's, Safeway, and Whole Foods. Some of our favorite places to eat are the nearby Shari's Cafe & Pies, Cask & Trotter BBQ, and The Bistro Pho.
If staying close to familiar medical centers and trusted healthcare providers is important to you, rest assured that you will be just minutes from Lynnwood Post Acute Rehab Center and Swedish Edmonds Hospital, plus a variety of other specialists and pharmacies. We even provide transportation for medical visits every week.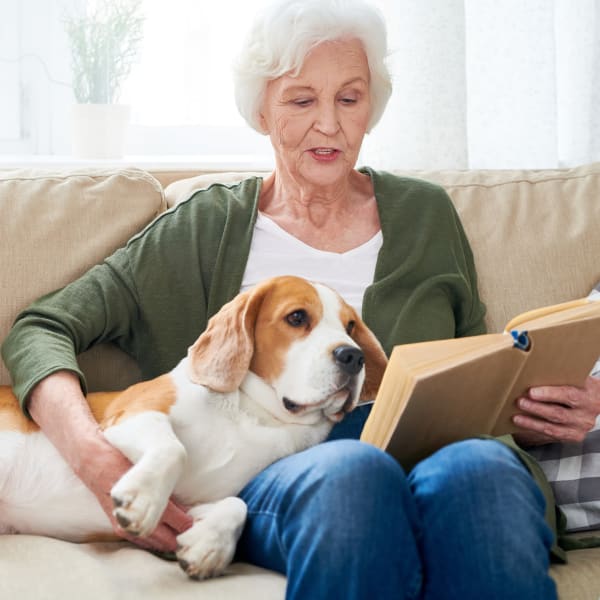 Furry Friends Welcome

Pets Welcome!
Are you looking for a new home where your cat or dog can join you? Pacifica Senior Living Lynnwood offers pet-friendly senior living in Lynnwood, Washington, so you can have your furry friends by your side.
To learn more about our pet policy and guidelines, please contact our friendly team today.
Lifestyle Options

Explore & Enjoy
Enjoy a full menu of life-enhancing activities, social events, and learning opportunities to explore and enjoy by making your next move to Pacifica Senior Living Lynnwood. Each day brings a new menu options, with regular offerings that include:
Cooking Classes, Painting, Construction-Paper Modern Art.
Percussion Sessions, Sit And Be Fit, Balloon Battles
Professional Karaoke System
Rescue & Service Animal Visits
Communion, Bible Study, Biblical Prayer And Counseling, Outdoor Church Services.
Roaming Musical Performances:Rock, Pop, Gospel, Contemporary Christian, Old Country, Folk
If you are curious about life at Pacifica Senior Living Lynnwood, we hope you will join us soon for an informative tour. Give us a call today to plan your visit.