About Us

What Drives Our Communities
At Pacifica Senior Living, our mission is to do what we love and what we truly believe in: providing compassionate, personalized care services with dignity and respect. As we approach 90 communities and find ourselves at No. 20 on Argentum's list of 150 Largest Providers, we are humbled to have the opportunity to serve the many thousands of residents who have chosen to make our communities their home. We warmly welcome each resident to our Pacifica family, and we view it as a tremendous honor that we can meet their needs – ranging from Independent Living and Assisted Living to Memory Care.
As we continue to press forward with our battle against COVID-19, we remain focused on elevating the quality of the lives of each of our residents while striving to protect them from this virus, to which they are particularly vulnerable. We will continue to press on, remaining resolute in our efforts to expand our ability to meet the needs of even more seniors, while remaining true to our mission and grateful for the many lives we have the privilege of serving.
Our Ellensburg Neighborhood

Rooted in the Community
Life at Pacifica Senior Living Ellensburg is about care, engagement, and community that extends beyond our campus and into all the wonderful benefits waiting in the surrounding neighborhood. Independent Living residents are able to come and go on their own, while members of our Assisted Living and Memory Care units enjoy access to exploration through our regularly scheduled outings and field trips. Some of our favorite eateries include Golden Dragon Chinese, Koletty's Koffee, and 1201 Bagels. We like to visit the cool, eclectic shops on Pearl Street and Main Street, and swing into the big-name stores for household staples.
When it comes to care, we keep you close to the local providers you know and trust. Kittitas Valley Healthcare and Urgent Care centers are less than one minute from our community, as is the Prestige Post-Acute and Rehab Center. There are no fewer than 10 pharmacies within a few minutes of our community, so you can find the right place to fill your prescriptions at the best price. KVH Pharmacy, Rite Aid, Fred Meyer, Safeway, and Super One Foods are just a few of the nearby options.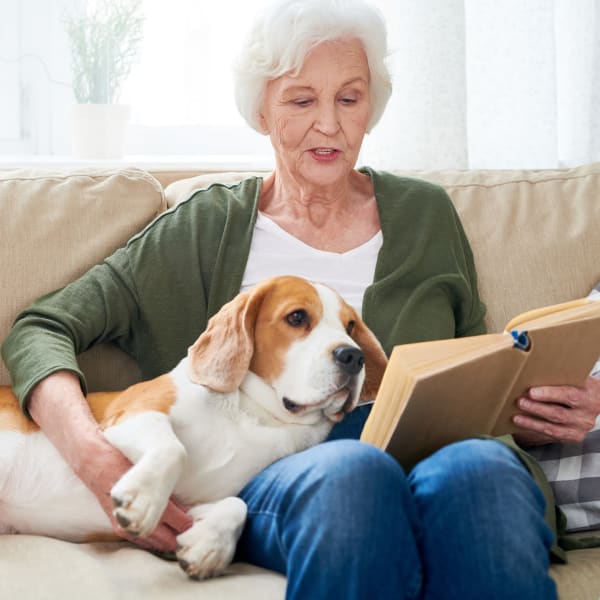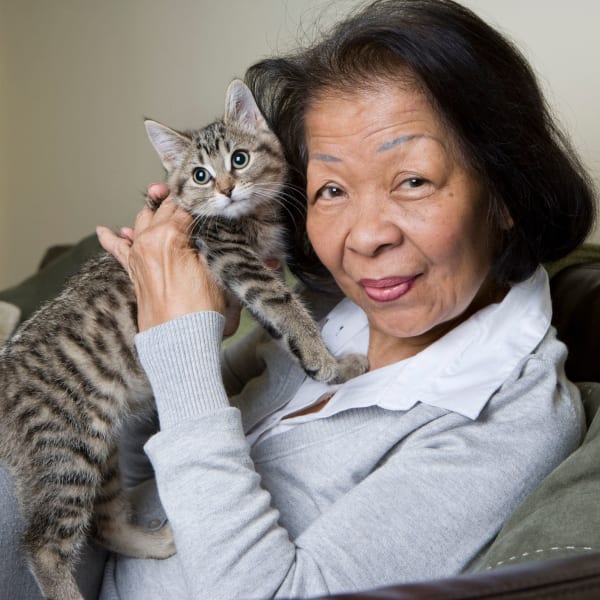 Furry Friends Welcome

Make the Best Roommates!
Pacifica Senior Living Ellensburg offers pet-friendly senior living in Ellensburg, Washington. Bring your cats and dogs to join the fun in our community, and take advantage of the many nearby parks and onsite amenities that make life here just as fun for them as it is for you!
To learn more about our pet policy and guidelines, please contact our friendly team today.
Live with Purpose

Explore, Engage & Enjoy
Make the most of each day on your own terms by taking advantage of the many events and activities on our activities calendar. Socialize, learn, play, and celebrate alongside your friends and neighbors with options like:
Daily Exercise Classes & Clubs, Walking Groups & Brain Activities
Weekly Shopping Trips, Scenic Drives, Bingo, Card Games & Musical Events
Group Outings to Local Shops, Restaurants & the Library
Social Engagement Activities, Crafts & Decorating Committees
Attending Local Events at the Rodeo, the Fair & Octoberfest
Holiday Parades & Christmas Light Drives
Come for a tour of our community to experience the possibilities available each day at Pacifica Senior Living Ellensburg. We look forward to meeting you!