Memory Care
If you have a loved one with Alzheimer's disease or dementia, you want the very best for them. You want a program that offers safety and security as well as a fulfilling, rewarding lifestyle.
You Don't Have to Deal with Alzheimer's Disease Alone
Legacies Memory Care at The Meridian at Lake San Marcos has everything you're looking for. And more!
Legacies is the specialized memory care neighborhood at The Meridian at Lake San Marcos. In this secure area, compassionate team members provide quality care to our residents that are facing Alzheimer's disease and other related dementia.
Our philosophy of memory care programming encourages security and a sense of well-being. In Legacies, we begin with a personalized assessment conducted by our Resident Care Director to determine the individualized care plan.
We recognize that everyone is different and customize the plan to each of our San Marcos memory care residents' individual needs. Our team members are specifically trained to enrich the lives of our Legacies residents and their family members.
One of the benefits of living at the Meridian is our ability to customize a plan of care for each resident. Based on a points system comprised of four levels, our goal is to meet each residents needs by tailoring a plan specific to them.
Contact us today to schedule your personalized tour, we are here to help and can assist you and your family throughout this transition.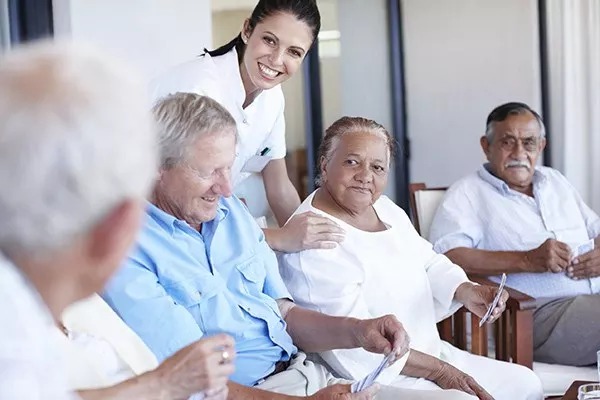 Our Separate, Secured Memory Care Community Offers:
Medication Management
Assistance with Activities of Daily Living (ADL's)
Escorts to Meals and Planned Activities
Incontinence Care*
Cueing/Reminers as Necessary
Stand-By and/or Full Assistance with Bathing and Grooming
Transfer Assistance
Dietary Monitoring
Behavioral Interventions