Senior Living Options
The Village at Hayes Valley offers a unique senior living experience to San Francisco families. Providing assisted living and memory care services, we ensure that our residents live each day to the fullest, confident in our care and the opportunities our community provides for an engaging lifestyle.
A beautifully renovated Victorian mansion, our community is home to over 40 residents. Ours is a close-knit community, celebrating the personal connections between residents and staff, families and the public that add color and vibrancy to daily life. Here, quality supportive care is enveloped in a community that emphasizes the individual strengths and personalities of its residents.
The Village at Hayes Valley A Premier Senior Living Community by Pacifica
The Village at Hayes Valley is owned and operated by Pacifica Senior Living. A private, family company based in San Diego, California, Pacifica Senior Living specializes in full-service, assisted living and memory care. Pacifica communities can be found throughout Arizona, California, Florida, South Carolina, Washington, Georgia, Idaho, Nevada, New Mexico, North Carolina, Oregon, Rhode Island, Texas, Utah and Virginia.
Pacifica Senior Living was voted "Best in Senior Living" in 2016 by families through SeniorAdvisor.com. Our company firmly believes in and operates in accordance with our core values: Accountability, Integrity, Life Enrichment, Teamwork and Professionalism.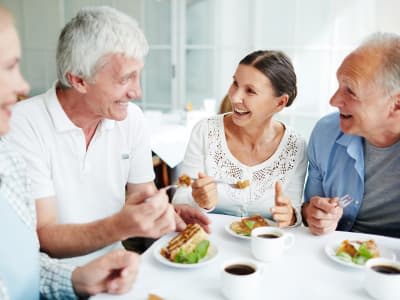 A Lifestyle of Choice
Some benefits we offer are:
Predictable Pricing or Customized Pricing options
Compassionate and expert caregivers
Natural Cues – like the aroma of food or color schemes – to calm residents and guide them through their day
A spacious and enclosed campus-like setting for leisurely walks
Embrace the World Activities Program and Ambassador Program