Transitions™ Assisted Living in Northridge
Our custom care approach to assisted living allows residents, staff and other health care professionals to develop a service plan that meets the individual needs of each resident. At Pacifica Senior Living Northridge, our assisted care services allow each resident to choose and receive the quality of care to their individual interest and physical well-being. We seek to find the right balance between assisted living and the need for more help with challenging day-to-day routines.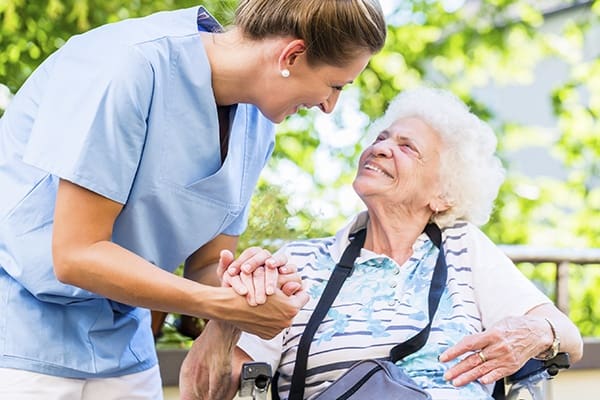 We carefully explore each resident's existing lifestyle and health care needs then tailor our specialized levels of service to compliment those unique needs. From day one, we welcome new residents with the best care possible for a rewarding and satisfying future. Pacifica Senior Living Northridge works with its residents and their family members to create individual, personalized services. We carefully plan for each arrival by providing a respectful and professional health assessment before our resident move in to aid in a smooth transition.
Residents in assisted living have full access to both our restaurant-style dining room and our intimate private dining room. Just outside, they can enjoy a beautiful backyard patio with a garden bursting with color. Patio seating is abundant and encourages interaction for making new friends.
Pacifica Senior Living Northridge Features
Building
A Spacious Relaxing Lobby
Welcoming Entry Veranda with Waterfall
Warm, Inviting Decor
Large Windows, High Ceilings and Wide Hallways
Large Studio Apartments with Bath for Private or Shared Occupancy
Individual Climate Control in Each Apartment
Elegant and Spacious Dining Room with Restaurant Service
Media / Activity Room
Multipurpose Activity Room with Library, Game Area and TV
Private Garage Parking
Care​
Personal Hygiene and Grooming Assistance
Mobility and Escort Assistance
Incontinence Care
Medication Management
Frailty Care and Supervision
Wellness Management
Meals, Snacks and Some Special Diets
Behavioral Management
Awake Nighttime Care and Supervision
Resident Security Provided by Wander Guard, Egress Doors and Close Supervision
Wandering Supervision and Prevention
Scheduled Transportation
Food Intake and Special Diet Monitoring
Hospice Care
Activities
Memory Enhancement Games and Activities
Music Therapy, Singing, Live Entertainment, and Dancing
Reminiscence
Exercise and Fitness
Daily Ice Cream Socials
Creative Activities and Crafts
Pet Therapy
Inspirational and Devotional Activities
Special Community Events with Families
Specialized Activities for the Active
Specialized Sensory and Physical Activities for the Passive
Planned Outdoor Activities and Events
Activity Prompting, Cueing and Redirecting
Voted Best In Senior Living 2015 and 2018!