Legacies™ Memory Care
Our Legacies™ Memory Care program is a specialized community where our team of professionals provides quality care to our residents facing Alzheimer's disease and other related dementias. Our philosophy of programming encourages security and a sense of well-being for our residents.
You don't have to deal with Alzheimer's disease alone.
In Legacies™, we begin a personalized assessment to determine the individual's level of care plan. We recognize that everyone is different and customize each care plan to the resident's individual needs.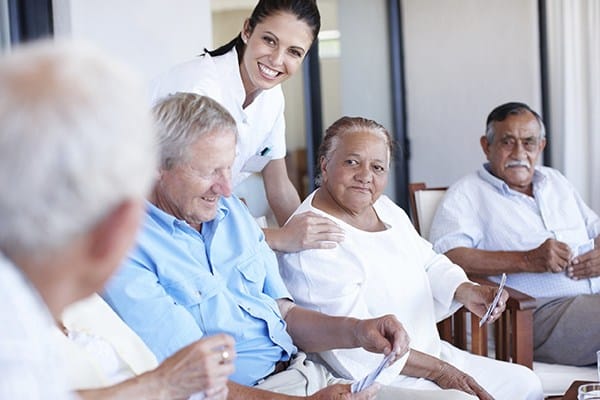 Pacifica Senior Living Santa Clarita offers a wide range of activities to meet all of our residents needs. Some of our activities include: crafts, movies, card games, and outings. Our programming is designed to meet all of our resident's cognitive, social and physical stimulation. 
Our dementia care staff at Pacifica Senior Living Santa Clarita is trained and certified in Alzheimer's care to provide needed services in a supportive environment. We provide a comprehensive approach to caring for each resident by integrating behavioral management and nursing assistance. Our goal is to optimize function, promote social interaction, and enhance self-esteem through assessments and development of care plans that are individualized for each resident. We strive to ensure that our residents live at their highest level of comfort.
Our Separate, Secured Memory Care Community Offers:
Secured and Safe Environment
Dedicated Specially-Trained Staff Available 24 Hours a Day
Variety of Life Enrichment Programs
Activity Program Specific to Dementia Care
Weekly Housekeeping and Laundry Services
Medication Management
Individualized Care Plans
Assistance with All Activities of Daily Living
Family Style Dining
Incontinence Care
Family Support Meetings
Transportation Assistance

Pacifica Senior Living Santa Clarita thanks you for your service!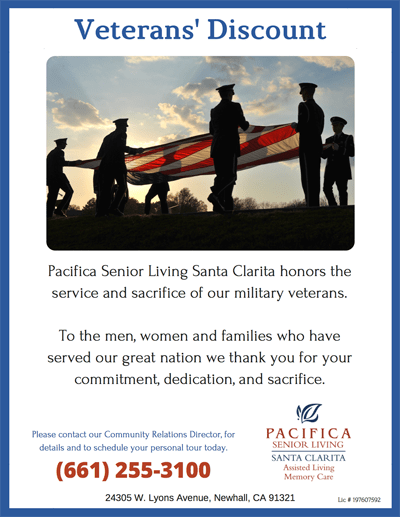 Voted Best In Senior Living 2013 & 2014!