Skilled Nursing at Healdsburg, A Pacifica Senior Living Community
Our goal is to provide family members and their loved ones the highest level of care while focusing on the individual's needs. Our residents always come first! We are constantly looking for what we can do for the resident, for their family and for their support systems.
For some individuals this can be a very challenging time both physically and emotionally. Some are having to relearn even the simplest tasks. We realize that they need us to keep our focus their needs as a whole.
The Continuum of Care at Healdsburg Senior Living creates an environment that can't be duplicated in a stand-alone building setup. All of our Skilled Nursing, Assisted Living, Independent Living and Memory Care residents enjoy our Community Events together. This connection helps our residents to feel less isolated and fosters an atmosphere of hope and support that is so vital to recovery. Services provided by Pro Therapy, Inc.
Residents of our community are directly involved and benefit from our Horticultural Therapy.  See our Garden page.
We provide short and long term rehabilitation and outpatient care that is often needed after a hospital stay. Occupational Therapy, Physical Therapy and Speech Therapy are all available.  We are fully staffed 6 days per week and serve the residents of Healdsburg Senior Living and the community at large. Our Skilled Nursing and Rehabilitation facility has 38 beds for those needing nursing care.
Rehabilitation facility has 38 beds for those needing nursing care.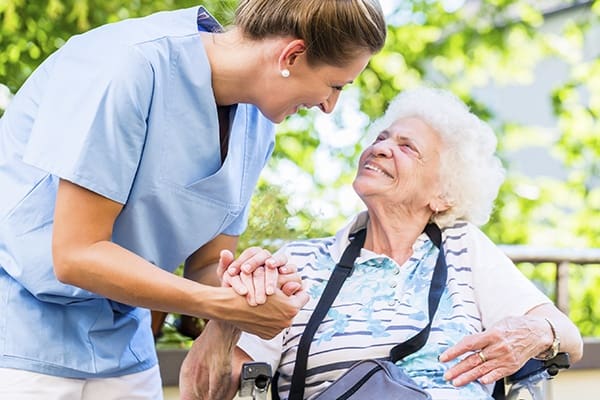 Frequently Asked Questions
What are your visiting policies and hours?
We are open to all family and friends each and everyday. We encourage you to visit frequently. Our outside doors may be locked after-hours for the safety and well-being of the residents, staff members and visitors so if you'd like to visit during these times let a staff member know.
Can I bring a pet?
Yes, but we may require that you have immunization records. Please keep pets on a leash.
Do you offer Respite Care?
Yes. Current rates and facility information can be obtained by contacting our front desk at 707-433-4877.
Can I leave the Skilled Nursing center to go home on a visit or to go on an outing?
Residents that are medically stable are encouraged to leave for short visits. However, please discuss the visit with our staff in advance for any special requirements.
Is transportation available for follow-up appointments?
Yes, we have a van for transportation. In cases were the van is not available, the Social Service Director will make transportation arrangements.
How is the food?
We strive to use the freshest local products. We care about the quality of our offerings and always provide nutritious, wholesome foods. Here are some foods from a special event we hosted and some vegetables from our Garden.