Legacies™ Memory Care in Chino
Our Legacies™ Memory Care program is a specialized community where our team of professionals provides quality care to our residents facing Alzheimer's disease and other related dementias. Our philosophy of programming encourages security and a sense of well-being for our residents.
You don't have to deal with Alzheimer's disease alone
In Legacies, we begin a personalized assessment to determine an individual's level of care plan. We recognize that everyone is different and customize each care plan to a resident's individual needs.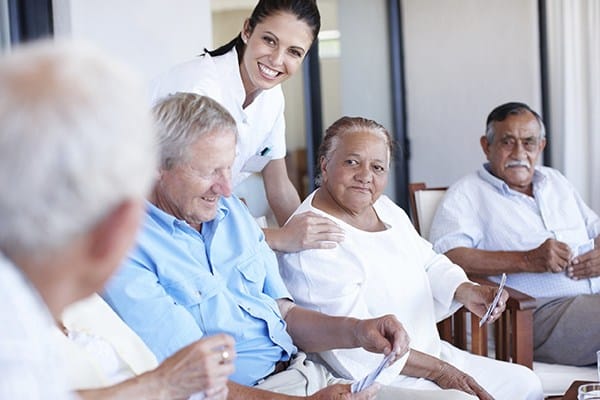 Pacifica Senior Living Hillsborough offers a wide range of activities to meet all of our residents' needs. Some of our activities include: crafts, movies, card games, outings, and strolls in the courtyard. Our programming is designed to meet all of our residents' cognitive, social and physical stimulation. 
The dementia care staff at Pacifica Senior Living Hillsborough is trained and certified in Alzheimer's care to provide needed services in a supportive environment. We provide a comprehensive approach to caring for each resident by integrating behavioral management and nursing assistance. Our goal is to optimize function, promote social interaction, and enhance self-esteem through assessments and development of care plans that are individualized for each resident. We strive to ensure that our residents live at their highest level of comfort. 
Testimonials
"We have been very pleased with Pacifica Senior Living in Chino. We moved my mother Sue there last July and have been impressed with the level of service that we have received for her there. The medication plan along with the nicely prepared meals have really helped mom continue to keep her independence but also gives us the peace of mind that she is getting all of her medications on a regular basis and eating well. The facility is clean and has lots of activities for the residents too."
John S.
Yelp 2016
"This turns out to be an amazing day. Jennifer is awesome and very helpful. She is a God send. Our mom will be in great hands."
Lia
Google+ 2016
"We had my dad in Pacifica up in Chino, CA. The staff was excellent, they saw to my dads needs, took very good care of him, he was in the transitions area. The rooms were always neat and clean, the food was great. Every Time we came to see dad the staff welcomed is with open arms and friendly smiles. Any thing we needed or wanted they were right there."
Sue M
Facebook 2016