Skilled Nursing
Pacifica Senior Living Skylyn is an award-winning senior community which provides residents with around the clock care from compassionate nursing staff in our healthcare and rehabilitation center. Skilled nursing offers your loved one the most complete amount of care you can find outside of a hospital and we are equipped to handle issues related to Orthopedic Fractures, Joint Replacement and Amputation, Stroke, Parkinson's disease and other neurological disorders, Respiratory Disorders, Pneumonia, Congestive Heart Failure, and Urinary Tract Infections. At Pacifica Senior Living Skylyn in Spartanburg, helping each resident achieve his/her personalized goals is a top priority and we aspire to improve and enhance every step of the healing process. Our skilled nurses will evaluate and tailor therapy to address the individual needs of your loved one and provide the respect and dignity to assist them.
We offer an intimate setting of 44 beds of skilled nursing care and our facility is equipped to provide both short-term rehabilitation and long-term care. Our staff consists of licensed therapists, nurses, social workers, and independent physicians. Our goal is to provide our residents with the highest level of care to assist them to attain their highest level of function.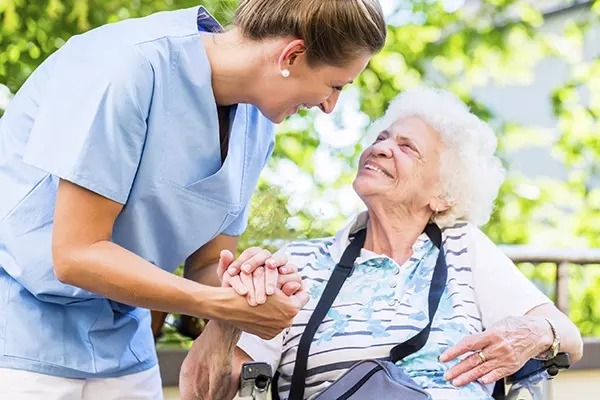 At Pacifica Senior Living Skylyn, we provide 24-hour clinical and 24-hour nursing care in the following areas:
C-pap
Bi-pap
PICC Lines
IV Therapy
Wound Vac
Respiratory Care
Pain Management
Registered Dietitian
Hospice/Palliative Care
Rehabilitation PT/OT/ST
Ostomy Care and Management
Nutritional and Dietary Support
Family and Resident Counseling
Resident Enrichment and Social Programs
Residents are engaged in recuperative therapies where we encourage physical, emotional, and cognitive health. Other amenities and services include semi-private rooms, devotional services, stimulating activities, end-of-life care, and hospice. The individual is our focus and we help with daily activities including physical therapy to restore function due to neuromuscular or skeletal issues, as well as occupational, oxygen and speech therapy. Our skilled nursing staff is highly trained to ensure a worry-free environment for your loved one.
Phone today to schedule a meeting to discuss if skilled nursing is right for your loved one.