Assisted Living
Pacifica Senior Living Klamath Falls provides award-winning Assisted Living services for seniors that need extra help with managing their day-to-day tasks. Our community in Klamath Falls, OR ensures everything from assistance with medication to daily help with bathing, dressing, grooming, and escorting to meals. We offer tiered levels of service, which allows you to only pay for the services you need.
Before moving in, we take our time to get to know each resident along with their families. We learn their likes and dislikes, personalities, as well as their preferred lifestyles. After that, we conduct a detailed and respectful health assessment, which helps us determine their individual needs. Using all this information, our highly trained Wellness Team creates a customized care plan that satisfies everyone involved. Our dedicated caregivers and medical technicians follow these plans accordingly and deliver all our services, and are available 24 hours a day.
Restaurant-style dining, pet therapy, and life enrichment programs are both included. Phone today and learn more about our Assisted Living community in Klamath Falls.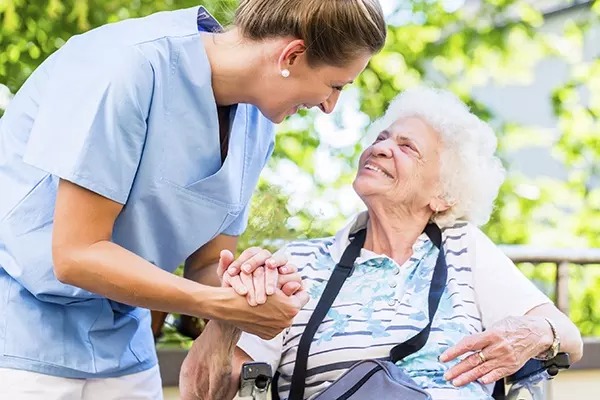 Balancing Independence with Support
A person-centered program, Heartland™ Assisted Living helps our residents live fulfilling, dignified lives. Each resident has a customized service plan to meet his or her needs; this plan is developed from an individual assessment conducted by our Resident Care Director. These plans emphasize individual abilities, promote independence and encourage choice. Services of the care plan may include:
Medication management
Monitoring of special diet restrictions
Assistance with showering, dressing and grooming
Assistance with meals
Escorting to meals, life enrichment programs and activities
Wellness checks
Incontinence care
Alternate pharmacy
In-suite dining
Enjoy a variety of services and amenities in one affordable monthly rate. There are no hidden fees!