Floor Plans
Small Nest Room
(Contact for Availability)
Bed
Studio
Bath
1
Rent
$2,700
Specials
Deposit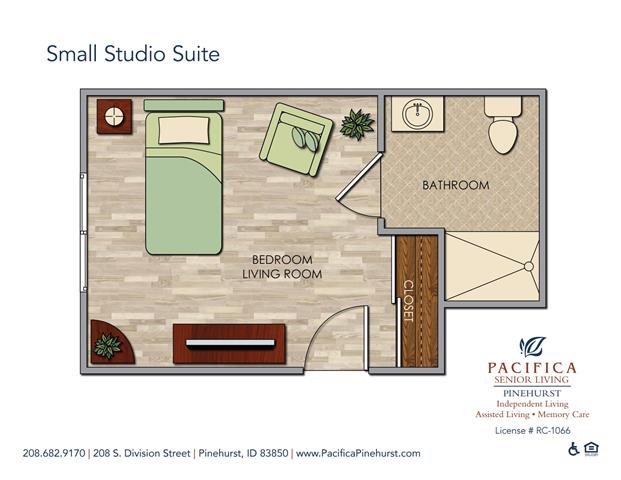 Medium Den Room
(Contact for Availability)
Bed
Studio
Bath
1
Rent
$3,200
Specials
Deposit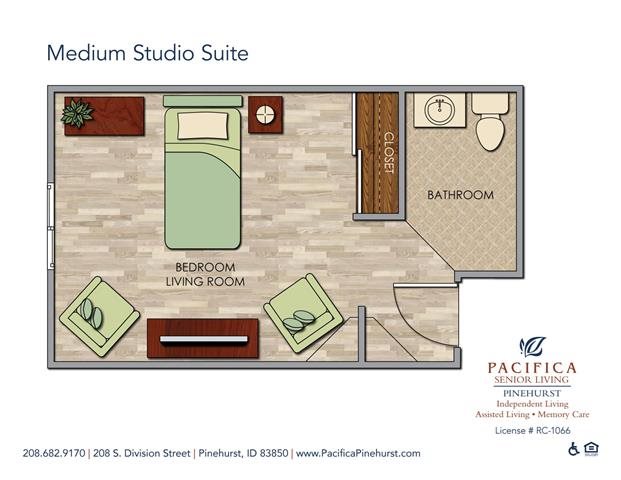 Large Roost Room
(Contact for Availability)
Bed
Studio
Bath
1
Rent
$3,900
Specials
Deposit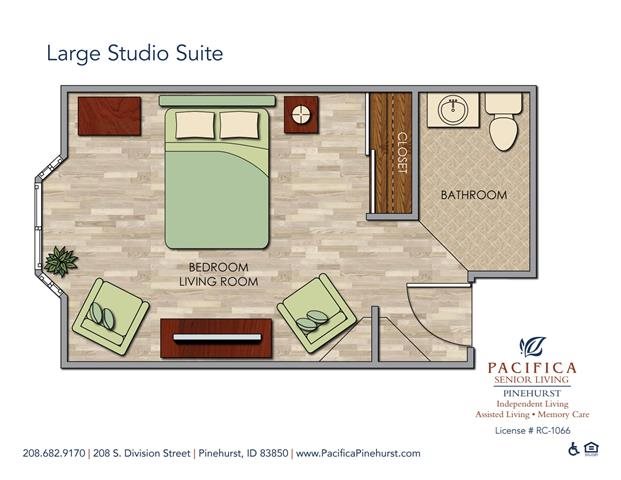 Senior Apartments in Pinehurst, ID
Located in the beautiful Silver Valley, near Coeur D'Alene, Pacifica Senior Living Pinehurst is an ideal choice if your loved one needs to be part of an Assisted Living or Memory Care community. For those in need of short-term stays, we also offer Respite Care. Our senior housing community in Pinehurst consists of two stand-alone cottages that can house up to 15 residents per home. We have gorgeous studios with twin-bedroom suites, common use kitchens to emulate the feeling of a real home, and delicious, seasonal meals served three times a day. A Registered dietician approved menus that will delight and meet the nutritional needs of residents. Couple this with a wide range of benefits, services, therapies, a variety of activities that change based on resident interest, and we promise the golden years of retirement will truly be golden.
At Pacifica Pinehurst residents are part of our family, and we strive every day to offer the highest levels of care and comfort needed. Our purpose is to encourage each member of our community to lead an independent lifestyle and have all the necessary support when needed. To achieve this, we have put together an excellent team of highly-trained professionals who make it their mission to know each resident on a personal level and offer them not just the needed care and support but also companionship, compassion, and respect.
We left nothing to chance, from the in-depth health and lifestyle assessment each resident goes through before joining our worry-free community to the transportation and concierge services. Our extensive list of activities includes everything from bingo and trivia to acrylic and oil painting, sports, board games, and more, and we encourage everyone to be an active and engaged member of our senior community.
Visit us at 208 S. Division Street in Pinehurst, ID 83850 or schedule a tour and swing by for a visit and delicious lunch at Pacifica Pinehurst!