A beautiful senior community in Coeur d'Alene's Dalton Garden, Pacifica Senior Living Coeur d'Alene is thoughtfully designed for social seniors who want to maintain an active lifestyle. Here your loved one will have all the comforts of home and all our support and care readily available.
At Pacifica Senior Living Coeur d'Alene, we pride ourselves on offering a warm and inviting environment that perfectly emulates the setting of a traditional home. Our furnished standard, large and deluxe studios apartments are divided into four stand-alone cottages, each with a different level of care. From traditional Assisted Living to transitional Memory Care, as well as treatment options for late-stage Alzheimer's or other memory impairments, we make sure to promote independence and socialization for an enjoyable life. (+more)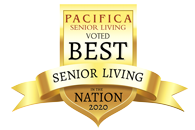 We also have a Respite Care program in place if you have a loved one that has been recently discharged from a nursing home or is recovering from a medical intervention and needs a comfortable home before transitioning to home. Respite Care can also be a choice if you need to leave town for a short period and you want those closest to you to get care and support in a compassionate residence.
To ensure those your loved ones get the utmost care, we use a personalized program for each one of our residents. This way, each new member of our community goes through an initial assessment where we take time getting to know the lifestyle preferences and medical needs of everyone. We use this knowledge to create a comprehensive person-centered approach and offer a customized care plan that fits the unique needs of each person. With a dedicated team of professionals and a high staff-to-resident ratio, we connect to each resident as a part of our Pacifica Senior Living family. Plus, to make things easier for all involved, our rent process consists of a simple month-to-month payment with no large buy-ins and no hidden fees.
On our pristine grounds, residents enjoy a full slate of perks and benefits. Wonderful benefits include nutritious, fresh food made from scratch every day by our chefs, spacious and secure outdoor courtyards, an on-site beauty salon, a barber shop, and many others. We offer a series of activities including arts and crafts, acrylic and oil painting or board games that change based on the desires and interests of our residents. And of course, our team at Pacifica Senior Living is dedicated to offering the best medical monitoring and utilizing our resources, such as physical therapy, music therapy, light therapy, and occupational therapy to ensure your loved one receives the very best in senior care.
We offer daily tours and are always available to answer any questions you might have. Phone today to find out more about our senior care community in Coeur d'Alene, Idaho.