Assisted Living
Residents benefiting from our Heartland™ Assisted Living program here at Pacifica Senior Living Coeur d'Alene get to live their retirement with the respect and compassion they deserve. Our approach to Assisted Living focuses on the unique needs of each resident, continually offering the right amount of independence and support with the more challenging aspects of day-to-day routines.
By carefully exploring each resident's existing lifestyle and health care needs we tailor a fully personalized care plan to ensure those unique needs are met. From day one, we strive to welcome our newest members with the best care possible and offer them a rewarding and fulfilling future. Therefore, we have a dedicated team of professionals available 24/7 that help with everything from grooming and bathing to medication management and housekeeping. We also bring in a variety of visiting occupational therapists and have plenty of recreational activities available on-site. More than that, our monthly rental has no hidden fees or large buy-ins, and we're pet-friendly, too!
Seniors in Assisted Living at Pacifica Senior Living Coeur d'Alene reside in a picturesque cottage with a secured backyard and a common-use kitchen where they get to enjoy delicious and nutritious meals cooked from scratch every day in a charming restaurant-style dining room. Or, if friends and family are visiting, we also offer an intimate and private dining room. The backyard and its walking paths are perfectly safe and encourage interaction with like-minded peers and meeting new friends.
Learn more about our Heartland™ Assisted Living and schedule a personalized tour of our senior living community in Coeur d'Alene, ID.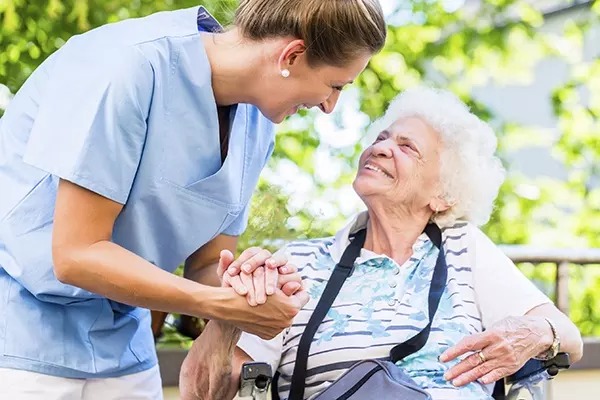 Tailor Our Care Options to Fit Your Unique Needs
Residents in assisted living have full access to both our restaurant-style dining room and our intimate and private dining room. Just outside, they enjoy a beautiful backyard patio with a garden bursting with color. There is a walking path contained within the safety and security of the community's common grounds. Patio seating is abundant and encourages interaction for making new friends.