Independent Living and Assisted Living
Courtyard at Coeur d'Alene is an award-winning senior living community in Coeur d'Alene, ID, where our number one goal is to improve our residents' quality of life and welcome them to our Pacifica family. Our specialized Assisted Living, Memory Care, and Respite Care programs are designed to offer your loved ones the highest level of care without compromising independence, privacy, or dignity. Our dedicated team of professionals works 24/7 to make sure our residents feel healthy, active, and relaxed while their families enjoy peace of mind.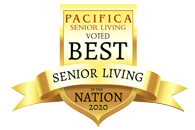 Nestled between beautiful Fernan Lake and the Coeur d'Alene Resort Golf Course, mere minutes away from Coeur d'Alene National Forest and numerous shopping options, Courtyard at Coeur d'Alene encompasses a secure courtyard with a serene koi fishpond and long walking paths. Our unique cottage-style concept ensures a home-like environment, where residents have the freedom to join any activities and make use of any amenities, meet new friends, and age in place. Each cottage has 15 apartments and a common-use kitchen.

We carefully plan for each arrival by providing a respectful and professional health assessment as well as a detailed interview with the residents and their families. We use this information to design an individualized care plan that fits your loved one's needs and wishes. We understand that everyone is different, and we make sure everyone's unique set of healthcare requirements and lifestyle preferences are paid attention to. After the care plan is created, our team delivers all our services with a smile. We assist with activities of daily living such as bathing, dressing, ambulating, dry cleaning, errands, pet care, and medication reminders, in a safe, welcoming environment. When needed, we also arrange for on-site physical, speech, and occupational therapies.

Filling each day with joy and laughter is just as important for seniors' mental and physical well-being. Which is why our residents have the freedom to choose whichever amenity they want to enjoy and can join a multitude of life-enrichment activities and events. These are fantastic opportunities to socialize and stimulate their cognitive functions, which is essential when facing memory loss issues like Alzheimer's or dementia. These fun activities include outings, brain games, yoga, scrapbooking, board games, oil painting, card games, as well as massages.

If going out is more your style, you're in luck! Our community is right in the heart of things, just down the road from the Coeur d'Alene Golf Course, The Relic Smokehouse and Pub, Roger's Ice Cream & Burgers, Juniors Cocina Mexicana, and Fernan Lake for all the fantastic boating you could imagine. We are also mere mintues away from the Kootenai Hospital and Outpatient Clinic, and the North Idaho VA Clinic, so your healthcare needs are always there when you need them.

We offer tours every day, so book yours today.