Welcome to The Meridian at Lantana, an award-winning Pacifica Senior Living Community located between West Palm Beach and Boynton Beach in beautiful Lantana, Florida.
Learn more about our visitation policy by clicking here.

We offer resort-style, luxury Independent Living, Assisted Living, and Memory Care for families seeking community-based care that comes with a 24-hour team, gourmet dining, and engaging programming designed to create a sense of happiness and security in each and every one of our residents. We tailor our programs to each resident's personal needs, providing a customized approach to care that puts residents at the center of their routines that is also flexible enough to adapt as their needs change.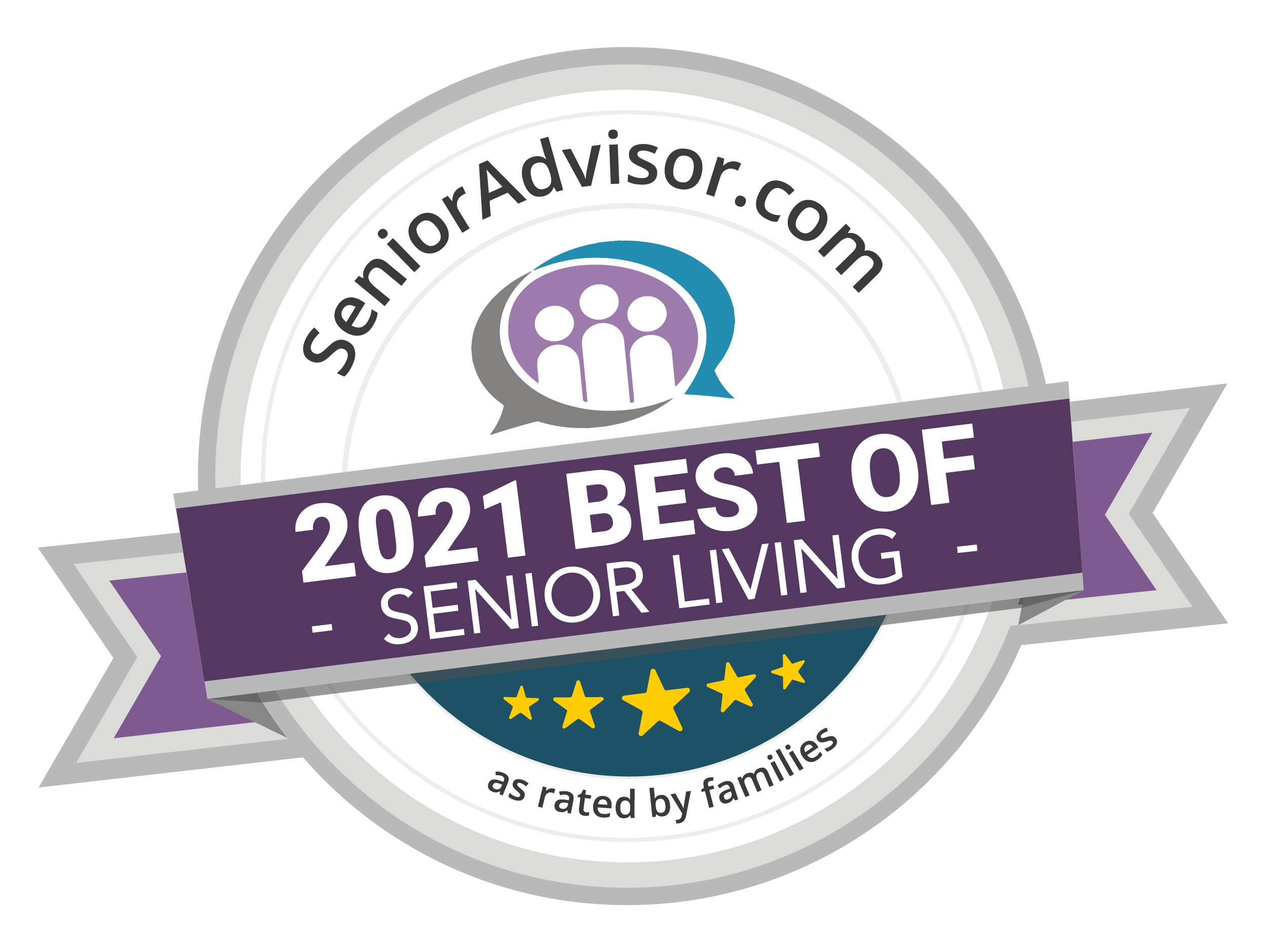 The Meridian at Lantana is proud to have won the Senior Advisor 2021 Best of Senior Living award!
Independent Living in Lantana, FL
Independent Living residents enjoy maintenance-free, luxury housing and chef-prepared dining while calling The Meridian at Lantana home—all with access to vibrant life-enrichment programming every single day.
We offer spacious and modern senior living apartments complete with individually-controlled thermostats, kitchenettes (with full-sized refrigerators), and private bathrooms. Our residents enjoy ample storage space and large windows, with patios and balconies available in many units.
Assisted Living in Lantana, FL
Our Assisted Living programs are designed to help residents manage their day-to-day activities. We use customized care plans that take each resident's individual needs into consideration to provide care designed just for them, including helping residents manage dressing, bathing, grooming, or taking medication. With emergency call systems in each unit, we encourage our assisted living residents to live with peace of mind knowing help is always available.
Memory Care in Lantana, FL
Our LegaciesTM Memory Care program is specially designed for residents living with dementia and Alzheimer's disease, providing a unique approach to long-term care that is personalized for those navigating a memory-loss journey.
We use a dynamic, resident-centered approach for our Memory Care program to provide tailored care for each person according to his or her needs over time. Our memory care residents have access to caregivers 24 hours a day, with emergency call systems located in each of our safe and secure apartments. We provide a wide range of dementia care and Alzheimer's care for our residents living with memory loss, including dementia-specific programming, guided exercise, mobility assistance, and more.
Dining at The Meridian at Lantana
Gourmet dining is a core part of daily living for residents of The Meridian at Lantana. We invite our community members to share delicious meals with their peers in our beautiful restaurant-style dining room, savoring freshly-prepared recipes handcrafted with their preferences in mind. Our meals are designed to meet residents' daily nutritional recommendations, offering delicious and healthy alternatives to fast food and takeout.
Life Enrichment at The Meridian at Lantana
When residents call The Meridian at Lantana home, they enjoy access to the community activities and events outlined on our monthly calendar. Each morning, afternoon, and evening, we provide new opportunities for residents to pursue their interests and bond with their peers, creating endless chances to make friends and live an active lifestyle. Every day brings new opportunities ranging from social hours, parties, and group outings, to board games, movie screenings, crafts, and much, much more.
Housekeeping at The Meridian at Lantana
Our housekeeping services are included in our Independent Living and Assisted Living programs, providing comprehensive linen and laundry services and apartment maintenance. Our dedicated housekeeping staff helps our residents to feel more at home and to live with peace of mind about their surroundings.
Transportation at The Meridian at Lantana
Through scheduled transportation services and shuttle rides, we make it easy for residents to see doctors and go shopping in the Lantana vicinity. We service many locations throughout Lantana, helping our residents attend out appointments and events, and visit local restaurants, attractions, and shopping.
Things to Do in Lantana, FL
Our community is located near South Congress Avenue, just minutes from Lake Osborne and adjacent to Atlantis Plaza. We are less than two miles from the JFK Medical Center, a local hospital that offers a range of emergency services and general care.
Our residents find endless opportunities for fun outdoors, thanks to our convenient location near South Palm Beach, and world-class golfing is accessible at the nearby Lost City Golf Club.
Pacifica Senior Living in Lantana, FL
With award-winning care services, resort-style amenities, and luxury apartments, residents of The Meridian at Lantana enjoy a comprehensive approach to senior living that puts residents at the center of their routine. Our team is happy to answer all of your questions about our community and what makes The Meridian at Lantana the premier choice for senior living in our little corner of Florida.
Please give us a call or send us an email for more information today, or you can schedule your own private and personalized tour of our community and see what makes us so special with your own eyes. We look forward to meeting our new neighbor!