Memory Care
Through its trademark Legacies™ Memory Care program, Pacifica Senior Living Palm Beach aims to heighten the physical and psychological well-being of seniors who have Alzheimer's, dementia, and other forms of memory loss. Our adept professionals provide a full spectrum of cognitive, spiritual, occupational, and physical therapies, assisted living services, and dementia-specific activities, helping our residents lead a gratifying and fulfilling lifestyle.

Our philosophy of programming encourages security and a sense of well-being, which is further enhanced by the life-enriching activities that give your loved one a chance to socialize, reminiscence, share memories, and rediscover the joy of living. We also hold an extended Congregated Care license, which enables us to offer all levels of directed care and provide a welcoming environment where residents can age in place. Another highlight is our Music & Memory program, which helps residents regain a sense of self and stimulate their cognitive abilities by listening to a sensibly selected playlist consisting of their favorite songs. We can accommodate the specific needs of those with more challenging behaviors, as well.

We aspire to provide love, care, and assistance to our residents, and this goal transpires in everything we do. Schedule a tour of our award-winning community in Greenacres, FL to meet us and learn more about our Memory Care community serving seniors in Palm Beach County.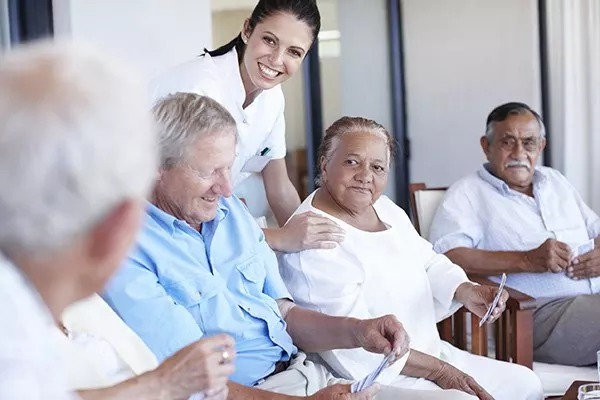 Activities for Residents' Well-Being
Pacifica Senior Living Palm Beach provides a wide spectrum of daily activities such as card games, Bingo, crafts, outings, movies and strolls through our grounds. We host activities which stimulate the cognitive, social and physical behaviors of an individual. This helps in the overall well–being of the resident. We approach memory care with the aim to improve the resident's quality of life. Music and Memory is one of our favorite programs which involve the residents listening to a sensibly selected playlist consisting of their favorite songs. This helps in stimulating the minds and memories of the resident as they connect to their favorite songs and associate them with memories of a good time.
Our compassionate team members are specially trained to enrich the lives of our Legacies™ residents and family members of this sometime-overwhelming disease.