Memory Care
Alzheimer's and Dementia Care
Our award-winning LegaciesTM Memory Care program is the crown jewel of Pacifica Palm Beach. This program is our way of working to enrich the lives and enhance the well-being of our residents that are coping with Alzheimer's and other memory-related conditions. This program combines a wide variety of cognitive, occupational, and physical therapies to aid recall and to maintain our residents' quality of life. And our care doesn't stop at the end of the therapy session. We're here for each and every one of our residents 24 hours a day, every day—if you need us, for anything, we're here.
At Pacifica Senior Living Palm Beach, we understand that life that needs memory care may be difficult, so, every day is approached with a philosophy of understanding so that the security and sense of well-being is constantly maintained in our residents. We have a wealth of life-enriching activities that will give your loved ones opportunity to socialize, share their lives and memories, and rediscover they joy of a life being well-lived. We are also the only memory care community in Palm Beach that builds its commitment to care right into the residences themselves. Our unique, cottage-style community is designed so that each cottage and each apartment therein is laid out identically, so that if your loved one has to change residences, there is no change in that continuity—everything will be exactly where they expect and remember it to be.
Our residents enjoy the freedom to walk in our bright, cheery courtyard!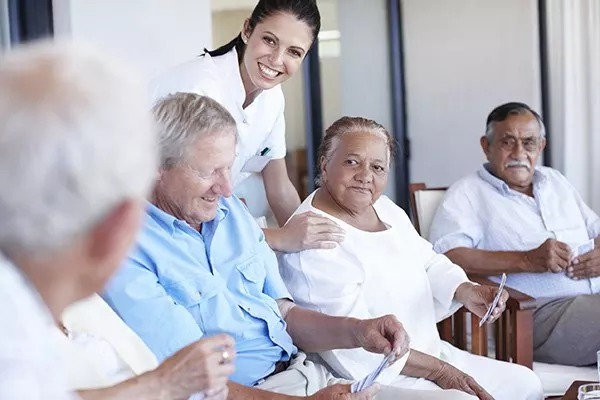 Memory Care Activities Designed for Our Residents' Well-Being
Pacifica Senior Living Palm Beach is committed to providing a wide range of activities for residents in our community, such as:
Arts & Crafts
Movie night
Card and board games
Trips to the beach
Outings into the Palm Beach community
Relaxing on our beautiful grounds
And more
All of these activities are aimed at keeping our residents engaged and active, and to keep their bodies and minds stimulated to improve their quality of life every day.

Contact us today to learn more about the LegaciesTM Memory Care program at Pacifica Senior Living Palm Beach.