Memory Care
Our award-winning LegaciesTM Memory Care program is the crown jewel of Pacifica Fort Myers. This program is our way of working to enrich the lives and enhance the well-being of our residents that are coping with Alzheimer's and other memory-related conditions. This program combines a wide variety of cognitive, occupational, and physical therapies to boost memory and recall, provide a stable baseline of life for our residents, and to improve their quality of life as much as possible. And our care doesn't stop at the end of the therapy session. We're here for each and every one of our residents 24 hours a day, every day—if you need us, for anything, we're here.
At Pacifica Senior Living Fort Myers, we understand that life that needs memory care may be difficult, so, every day is approached with a philosophy of understanding so that the security and sense of well-being is constantly maintained in our residents. We have a wealth of life-enriching activities that will give your loved ones opportunity to socialize, share their lives and memories, and rediscover they joy of a life being well-lived.
We want our residents to feel comfortable and at home during their time with us, and our cottage-style housing does just that—providing all of the modern amenities needed to ensure they are well-cared for, while designed with cozy appointments that only a real home could provide. We want our living accommodations to be commensurate with our reputation, and we work tirelessly to make sure that this is exactly the case.
If you wish to schedule a tour of the award-winning Pacifica Senior Living Fort Myers, we would love to have you, and we look forward to meeting you.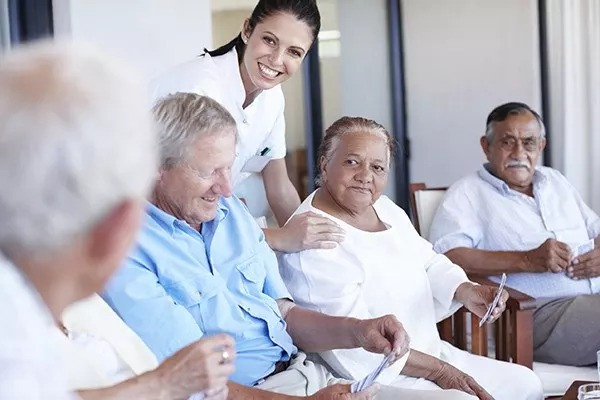 Activities for Residents' Well-Being
At Pacifica Senior Living Fort Myers, we are committed to providing a wide range of activities and amenities for residents in our community, such as:
Arts & Crafts
Fully-stocked library
Card and board games
Chef-prepared meals served three times a day
Outings into the Fort Myers community
On-site putting green
Beautiful grounds to walk and enjoy
And more
All of the above are aimed at keeping our residents engaged and active, and to keep their bodies and minds stimulated to improve their quality of life every day.