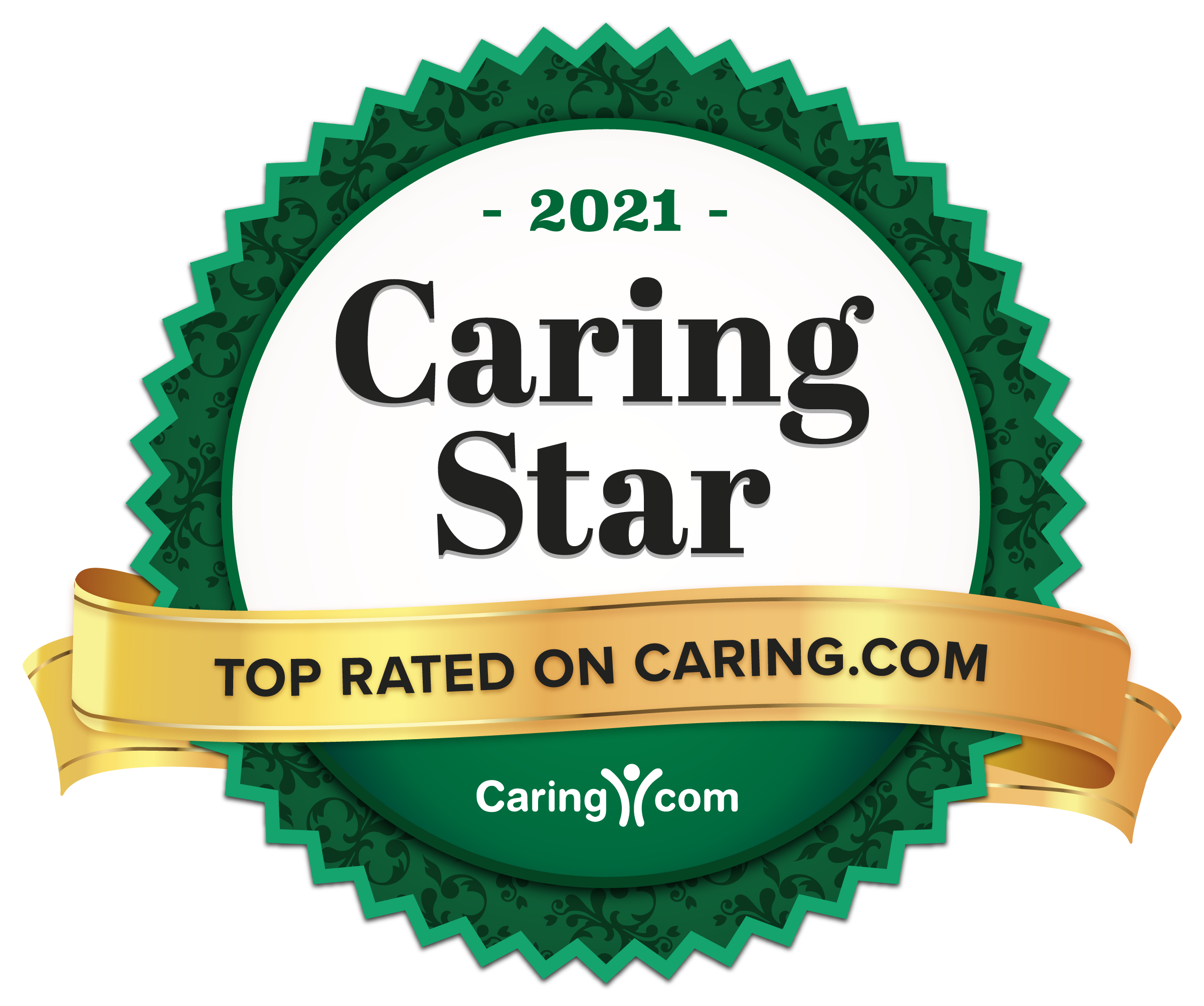 We are proud to congratulate Avila Senior Living at Downtown SLO on being named one of Caring.com's Caring Stars for 2021!
Avila Senior Living at Downtown SLO is pleased to announce it has been selected as a 2021 Caring Star for service excellence in senior living. In consumer ratings and reviews on Caring.com Avila Senior Living at Downtown SLO earned a 5-star rating (the highest possible score) within the qualification time frame, while also having a high volume of positive reviews, responding to any negative reviews, and meeting other criteria for this national honor.

"We love what we do and it shows," said Michael Mayfield, Executive Director of Avila Senior Living at Downtown San Luis Obispo. "Our team, our extended work family if you will, works hard every day and consistently delivers compassionate care for every resident and it is really wonderful to know that our team is receiving the recognition they deserve," said Michael Mayfield, Executive Director of Avila Senior Living at Downtown San Luis Obispo.

Online reviews help Americans research and select the best senior living communities. Seniors and their families turn to the Internet and consumer reviews when narrowing their options among senior living communities in their area. They rely on these peer perspectives as much as personal recommendations from friends, geriatric professionals and medical personnel.

Originally published in January 2012 as the first of its kind, the Caring Stars annual list has become the go-to guide of the best senior living communities nationwide–particularly helpful to families new to this market, or when researching from afar and unfamiliar with local options. To be considered for the award, Caring Stars communities meet a set of criteria based on ratings and reviews from senior living residents and their family members. Caring senior care experts also conducted a reviews-integrity audit and other quality-assurance measures before determining the Caring Stars of 2021.
"Congratulations to Avila Senior Living at Downtown SLO for being among these highly-rated communities achieving such significant praise from their customers in online reviews," Caring's CEO Jim Rosenthal said.

"They stand out as among the best in the nation."
Some of the positive feedback that led to Avila Senior Living at Downtown SLO being a Caring Star of 2021 includes:
"The staff is very caring at the residence and communicates well with me. My mother has a lovely 1-bedroom apartment on the 2nd floor with big windows and easy access to the activity space. This has been a challenging time during Covid, and I know there is lots of extra work for everyone, but the staff handles this with grace. Activities are somewhat curtailed during this time, but my mother is still able to go to exercise 6 mornings a week, something she really enjoys."


"My brother is in Avila Senior Living at Downtown San Luis Obispo, getting assistance with medication and things of that nature. It's been great, he had a seamless move in. They offer assistance with showering and dressing, and they do laundry and cleaning. They take him on rides, and deliver meals to the rooms twice a day. Once they get to go out in a controlled environment, in an atrium space, and that's great. They're opening back up a bit. It enabled him to move around and have a social life. The nurses can authorize the residents to go visit their family, then come back and get tested, so that's good. The staff is excellent. They don't allow outside people to dine in there at this point. They have some exercise classes in their atrium space that are all orchestrated to be safe, and with distancing. They have outings that they take people out if they want to go for a ride. I don't think they take people out for shopping or on public places, but they get to go out if they want to."


"My mother has resided at The Manse, now Avila through many years. All through her time there as a resident, she has been treated with respect & care. My mother is in her mid-90s so she doesn't do the activities that are offered, but she did at the beginning and truly enjoyed the interactions. My mother feels protected and loved by the staff. She views them as an extended family. As her daughter I am at ease, pleased and grateful for their care."
Read More Avila Senior Living Reviews Here!