Memory Care
Our Legacies™ Memory Care program is a specialized community where our team of professionals provides quality care to our residents facing Alzheimer's disease and other related dementia. Our philosophy of programming encourages security and a sense of well-being for our residents.
You Don't Have to Deal with Alzheimer's Disease Alone
Designed to assist those who are coping with early stages of memory loss, Alzheimer's or other types of dementia. Our Legacies Memory Care program at Pacifica Senior Living Country Crest is here to offer a supportive and engaging environment in which our residents can thrive and enjoy an active and comfortable setting.
To ensure the highest levels of care, each resident in Memory Care goes through a personalized assessment to determine the right care plan. We take time to sit down with all everyone involved in the process and find out our resident's preferences, hobbies as well as their healthcare needs. Then our extensively trained staff together with the visiting Nurse Practitioner ensures your loved ones get all the needed care and attention.
From assisting with daily activities like bathing and grooming to specialized therapies such as music therapy, reminiscence therapy, and pet therapy, we make sure our residents enjoy a fulfilling life in a safe, home-like environment. We also have delicious restaurant-style dining activities of daily living assistance, as well as and hospice care available. Because everyone deserves to pamper themselves, we offer an on-site barber shop, a beauty salon, a library, and created a full program of life-enriching activities that are meant to cover the social, cognitive, and physical needs of all our residents.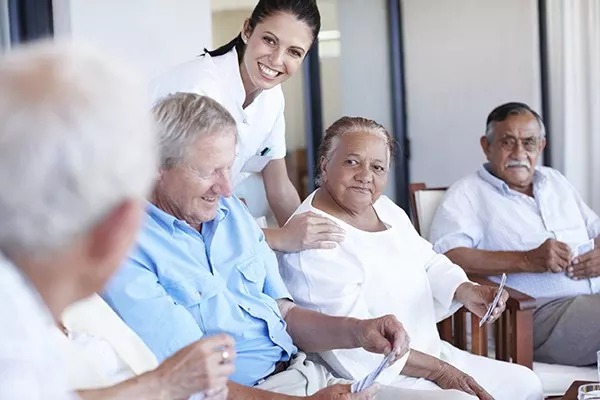 Pacifica Senior Living Country Crest offers the following Oroville Alzheimer's and dementia care features.
Predictable Pricing or Customized Pricing options
Compassionate and expert caregivers
Natural Cues – like the aroma of food or color schemes – to calm residents and guide them through their day
A spacious and enclosed campus-like setting for leisurely walks
Embrace the World Activities Program and Ambassador Program
Learn more about our all-inclusive Memory Care, book a tour and visit us for a personal tour and complimentary lunch.