Floor Plans
Noble Fir
(Contact for Availability)
Bed
1
Bath
1
Rent
Call for pricing
Specials
Deposit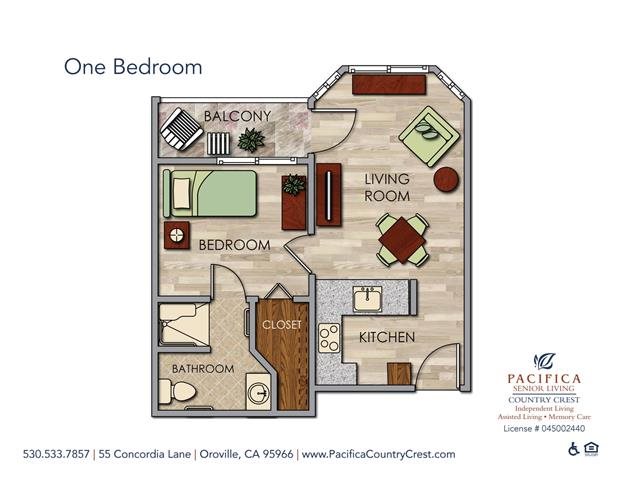 Cypress
(Contact for Availability)
Bed
1
Bath
1
Rent
Call for pricing
Specials
Deposit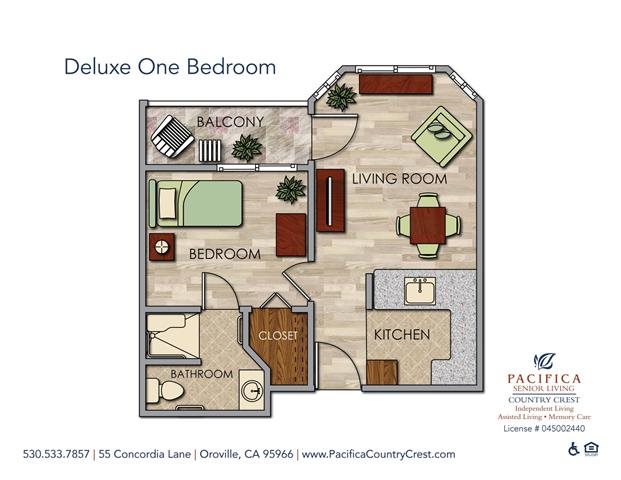 Ponderosa
(Contact for Availability)
Bed
1
Bath
2
Rent
Call for pricing
Specials
Deposit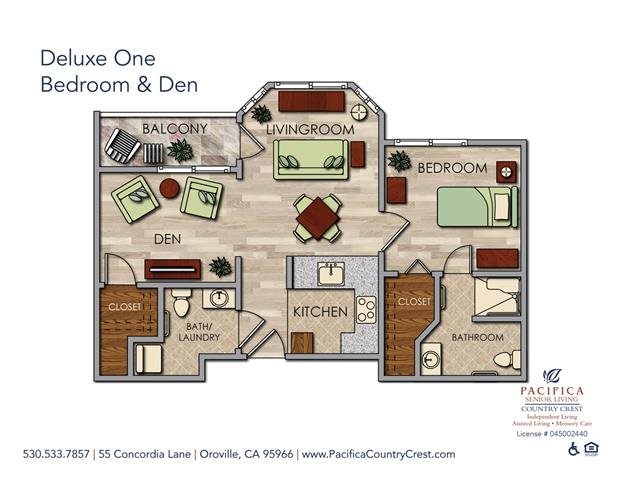 Redwood
(Contact for Availability)
Bed
1
Bath
1.5
Rent
Call for pricing
Specials
Deposit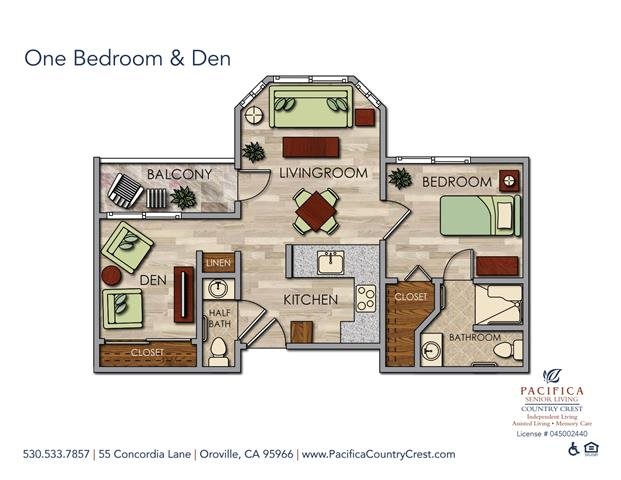 Oak
(Contact for Availability)
Bed
2
Bath
1
Rent
Call for pricing
Specials
Deposit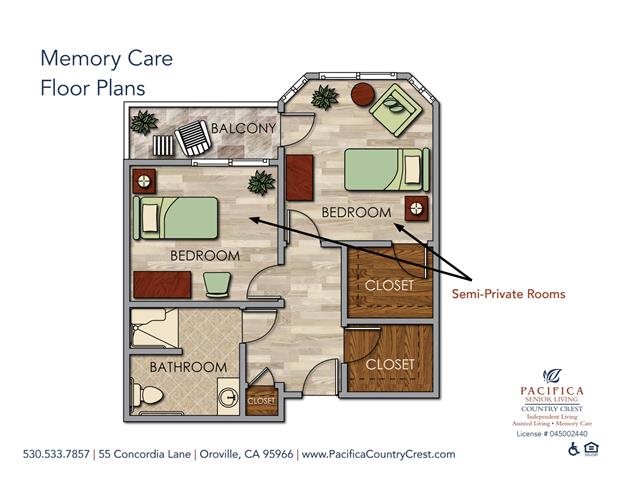 Dogwood
(Contact for Availability)
Bed
3
Bath
2
Rent
Call for pricing
Specials
Deposit
1-Bedroom Senior Apartments
Nestled at the foothills of the Sierra Nevada Mountains in sunny Oroville, CA, Pacifica Senior Living Country Crest is an ideal choice for any active adult in search for an Independent Living facility as well as a great place if your loved one needs to be part of an Assisted Living or Memory Care community. We offer one-bedroom senior homes with various layouts including, dens, patios or balconies and full baths for those residents in independent or assisted living. And semi-private secure rooms for those that are part of our Legacies Memory Care program. Couple this with a wide range of benefits, services, and therapies, and we promise the golden years will be engaging and active filled with respect and dignity.
At Pacifica Country Crest residents are part of our family, and we strive every day to offer the highest levels of care and comfort needed. Our purpose is to encourage each member of our community to lead an independent life and have all the necessary support when needed. To achieve this, we have put together an excellent team of highly-trained professionals who make it their mission to know each resident on a personal level and offer them not just the needed care and support but also companionship, compassion, and respect. We tailor services based on in-depth health and lifestyle assessments. Visiting therapists are available. We also have a full slate of activities from bingo and trivia to movie nights, happy hours, coffee socials to outings, wine tastings, and more. We encourage everyone to be an active and engaged member of our senior community.
Visit us at 55 Concordia Lane in Oroville, CA 95966 or schedule a tour and enjoy a complimentary delicious meal with us at Pacifica Country Crest!