Assisted Living
Assisted Living Condos & Apartments
Assisted Living at Pacifica Senior Living Oakland Heights means elevated living. The result of well-balanced care plans, compassionate assistance, and a deep desire to meet both the physical and the emotional needs of our residents, this program sets the foundation for a gratifying senior living experience.
We take the time to explore each new resident's story, learn their preferences, and assess how much assistance is needed, and then we use this knowledge to tailor customized care plans. Thanks to this person-centered approach, we can deliver better services, and subsequently, improve your loved one's quality of life. Our staff, which is not only expertly trained but also focused on providing the best senior care available, is present 24/7 to ensure no need goes unattended.
All these are just a part of the Pacifica Senior Living Oakland Heights experience. Living in our award-winning community comes together with a fulfilling retirement lifestyle, enhanced by a full complement of physical, social, and wellness-focused activities. No two days are the same, which keeps residents active and engaged.
Come by for a tour and a complimentary lunch to discover more about our well-rounded Assisted Living program in Oakland.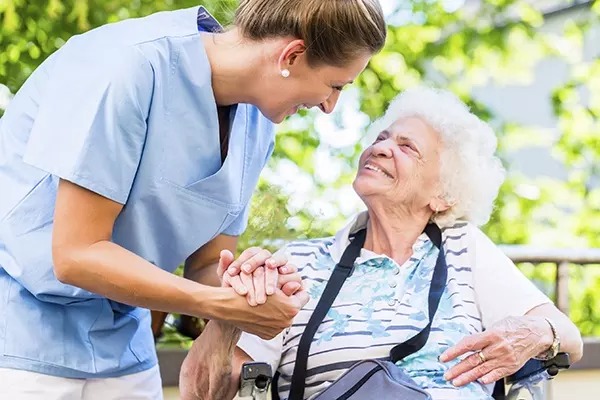 Tailor Our Care Options to Fit Your Unique Needs
Residents in assisted living have full access to both our restaurant-style dining room and our intimate and private dining room. Just outside, they enjoy a beautiful backyard patio with a garden bursting with color. There is a walking path contained within the safety and security of the community's common grounds. Patio seating is abundant and encourages interaction for making new friends.
Medication management (optional)
One-on-one companion care (optional)
Monitoring of special diet restrictions
Assistance with bathing dress and grooming (optional)
Assistance with meals (optional)
Escorting to meals, life enrichment programs and activities (optional)
Wellness checks (optional)
Incontinence care (optional)