Memory Care
If you have a loved one with Alzheimer's disease or dementia, you want the very best for them. You want a program that offer's safety and security as well as a fulfilling, and rewarding lifestyle. Our memory care community, Legacies, is a specialized neighborhood where our team of professionals provides quality care to our residents facing Alzheimer's disease and other related dementia. Our philosophy of programming encourages security and a sense of well-being for our residents.
You Don't Have to Deal with Alzheimer's Disease Alone
Dealing with Alzheimer's or any other memory-related condition is challenging both for those suffering from these issues and for their family members. A preeminent Memory Care community, Pacifica Senior Living Modesto takes the time to ensure that your loved ones benefit from the premium care they need so that you can put your mind at ease. Our caring staff offers assistance, guidance, and support leaving nothing to chance.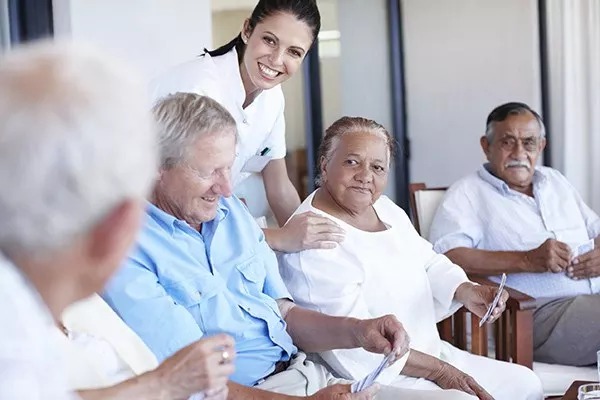 Our Secured Memory Care Offers:
Personal Hygiene and Grooming Assistance
Incontinence Care
Medication Management
Frailty Care and Supervision
Wellness Management
Behavior Management
Nighttime Care and Supervision
Wandering Supervision and Prevention
Hospice Care
Activity Prompting
Our Memory Care residents benefit from individually tailored care and therapy plans crafted by our Resident Care Director. These plans are complete with a wide host of specialized activities. Included are memory enhancement games, daily fitness and exercise classes, arts and crafts, live musical entertainment with Elvis, Johnny Cash & Patsy Cline impersonators, pet therapy, and many others. Additionally, our staff offers medication management, hospice and diabetic care services, wellness and behavior management, as well as frailty, nighttime, and wandering supervision. We also update our residents' care plans taking in account any healthcare needs changes they might experience so that their quality of life remains unchanged while getting continuum of care.
Schedule a tour of our award-winning Memory Care community in Modesto, CA, meet our staff, and learn more about our full-service care programs.