Memory Care
Offering a safe and nurturing ambiance, Pacifica Senior Living Merced aims to ensure the peace of mind you and your loved ones deserve. Our Legacies™ Memory Care program has been carefully designed to meet the specific needs of residents struggling with memory impairment issues, such as Alzheimer's or any other types of dementia. Our highly acclaimed team of professionals tailors activities that are meant to help combat and reduce memory loss, engaging, at the same time, the cognitive, emotional, and physical abilities of our residents. Serenity Hour in our Memory Care program, for example, is a popular activity.
In addition to the various types of therapies and life-enrichment activities we've prepared, our Pacifica family members can also take advantage of scheduled transportation, medication management, daily housekeeping, and more. Three delicious meals a day are further included, with over ten alternatives offered at each meal. We want to make sure that seniors have everything they need at their disposal to continue to lead a life of fulfillment, with dignity and joy.
Call for a tour to find out more about how to make a difference in your loved one's life. We look forward to meeting you over a personal tour.
You Don't Have to Deal with Alzheimer's Disease Alone
Our approach to Memory Care at Pacifica Senior Living Merced, is to provide a customized Care Plan based on our Residents unique needs and requirements. We recognize that as the needs of our Residents change; we must revise their Care Plans. Life at Pacifica Senior Living is filled with activities to improve physical and cognitive functions as well as promote social engagement.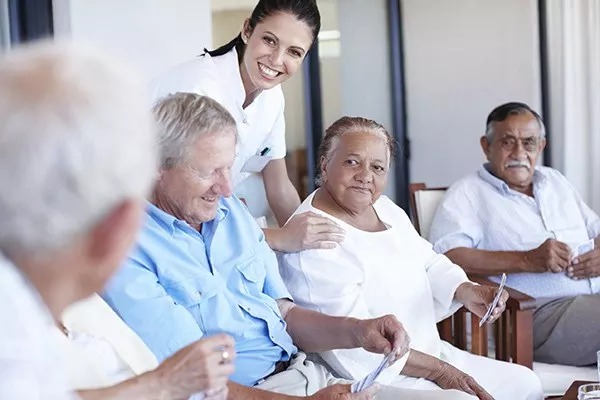 Life Enrichment Programs:
Individual and group activities, including gardening, cooking, and entertainment
Activities created specifically created with our Residents in mind
Extensive indoor/outdoor activity program with therapeutic exercises
Exercise programs that include stretching, walking and balance activities
Stress-free classes ranging from patterning to sensory stimulation
Programs that encourage intergenerational relationships and community involvement
Spiritual opportunities for people of all religions
Scheduled outings Monthly support group and ongoing support for families