Floor Plans
If you would like to learn what we are doing to help combat COVID-19, view our FAQ below.
(COVID-19 FAQ)
COVID-19 has changed so much in senior living, ranging from the way we conduct our tours to facilitating activities and even the dining experience. One thing that has not changed in nearly all of our communities though, is that we are still accepting new residents. This raises some questions that we want to address in effort to help you understand the process if you or a loved one are looking at move to senior living.
We hope these frequently asked questions and answers will give you some valuable insight into managing a loved ones move during this unprecedented time.
Why should I consider moving my loved one into a senior community in the midst of a pandemic? Isn't it unsafe?
A move to one of our PSL communities during this time is perfectly safe. We screen every person who enters the community, test staff regularly, social distance for both dining and activities, and immediately quarantine entire community if a positive case is identified. For most seniors in need of our services, they may be living alone, not able to get the necessary cleaning supplies we have access to, not screening people they come in contact with, and not able to access the resources we have to have food delivered or prepared. There is far more oversight in one of our communities than in a typical home setting.

Are we accepting move-ins?
Yes! Though we may conduct certain aspects of the process virtually: the initial tour, doctors office visit for paperwork, and room selection; we are committed to making the process as seamless as possible. Most of our communities have opened up to outdoor visitation and paperwork signing and other aspects of the process may also be conducted in this manner, but the essential steps remain intact.

Are you accepting people with COVID-19 as move-ins?
We require that all of our incoming residents present a negative COVID-19 test result to proceed with admission. During their initial 14 days in the community, each resident will have enhanced precautionary COVID-19 monitoring along with meaningful interaction with staff, meal deliveries, and all other services pertinent to their daily needs.

What will move-in day look like for your loved one?
As is the case with all moves, we will endeavor for it to be as stress free as possible. If the community is able to have outside vendors come in to do the move (dependent upon local, county, and state directives) they will be screened upon arrival and will be permitted to transport all of your loved one's belongings to their room. The resident and family members bringing them will also be screened upon arrival, and escorted to their new home. We'll have our customary welcome gift, and will ensure your loved one has all they need to be comfortable as they transition to the community. They'll have the opportunity to meet many of the staff in the coming days and everyone will be working to ensure your loved one is comfortable and satisfied with apartment.

Can you visit your loved one after they move into our community?
We recognize this is crucial for your family to be able to see one another. With communities from the East to the West coast and in several states, the state and local governments have put measures in place for the protection of our senior population. For most, that has meant no indoor visitation, but as we have seen the virus numbers decreasing and communities staying COVID-free we have been able to start outdoor visits in most of our communities. We have a transparent screen that each of our communities can use to ensure that exposure isn't a danger, while still allowing our residents and families to see one another. Some states have now started to open up the option of indoor visitation as well, and as that progresses we too expect to be able to facilitate at our communities. We are committed to following CDC and state and local guidelines to open our communities up in a safe and careful manner. As those guidelines change, we are ensuring we follow their direction.

What will dining and activities look like after your loved on moves into our community?
As with visitation, dining and activities have been largely restricted by the CDC and state and local authorities, but in recent weeks we've seen some great strides in opening up internal daily events such as dining and activities. With social distancing in place (typically 1-2 people at a table for dining, and usually groups of 10 for activities) we are able to return to some group engagement at a level that is still mindful of safety, but allows our residents to enjoy interacting with one another more freely.

What precauations and procedures are in place in our community?
As with our commitment to resident, staff, and visitor safety, our COVID-19 procedures are in place in accord with CDC and state-level guidance on how to ensure the safety of our community. We routinely perform temperature and O2 tests for all of our staff, residents, and visitors for based on these guidelines, and our staff is always fully equipped with masks and other PPE to ensure resident safety. We have purchased and installed vistation screens so that our visitors can see their loved ones in a safe and secure way. We have purchased more iPads for our community to make it easier for our residents to FaceTime and speak with their families. The health and safety of our residents, staff, and visitors is paramount and we are constantly working to deploy new methods of keeping people safe and enhance their quality of life in these unique times.
Since the start of this pandemic, we have been preemptive in putting a robust preparedness and response plan in place in effort to keep our communities as safe as possible until this virus runs its course. We remain vigilant in staying up-to-date with all state and national changes and implementing them as directed. We all look forward to a return to some of the normalcy we previously took for granted, but until then we are committed to making your loved ones move and subsequent residence in our community a great one. Our move-in process may look a little different these days, but we are still every bit as committed to welcoming each new resident to the Pacifica Family!
Suite
(Contact for Availability)
Bed
1
Bath
1
Rent
Call for pricing
Specials
Deposit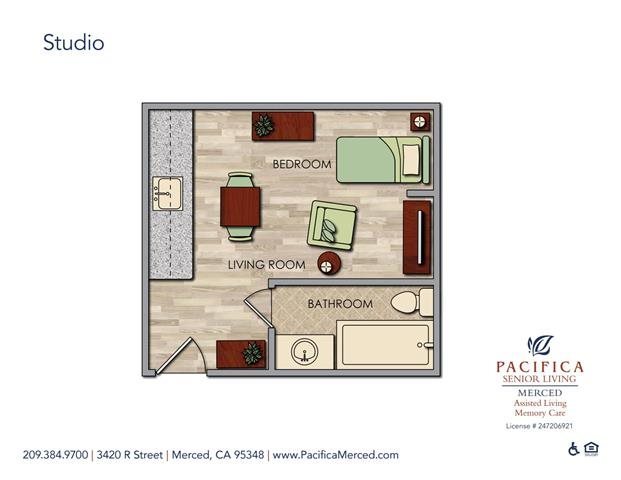 One Bedroom
(Contact for Availability)
Bed
1
Bath
1
Rent
Call for pricing
Specials
Deposit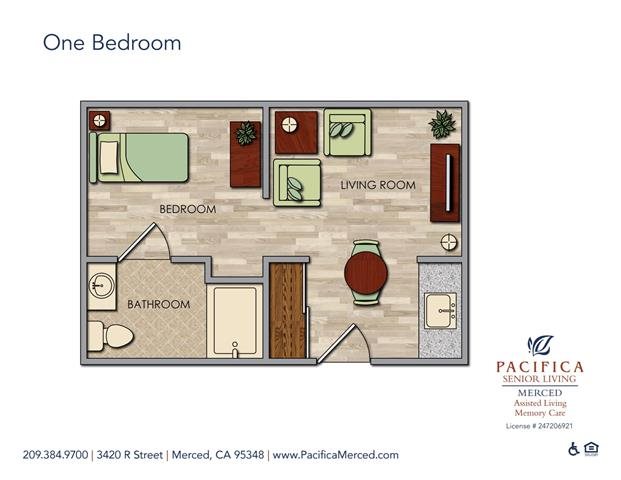 Memory Care Private S
(Contact for Availability)
Bed
1
Bath
1
Rent
Call for pricing
Specials
Deposit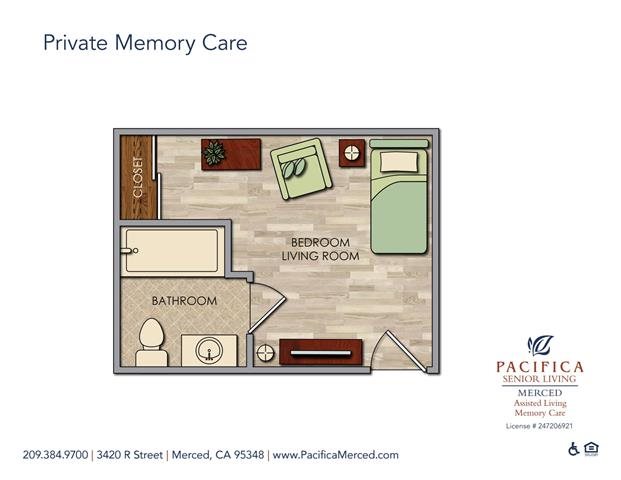 Two Bedroom
(Contact for Availability)
Bed
2
Bath
2
Rent
Call for pricing
Specials
Deposit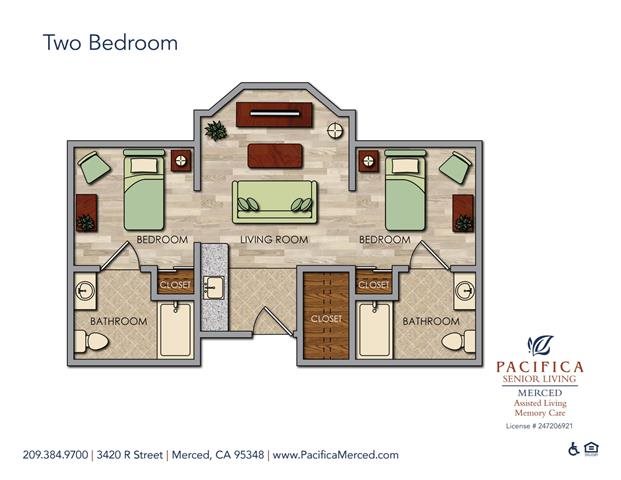 Memory Care Semi-Private
(Contact for Availability)
Bed
2
Bath
1
Rent
Call for pricing
Specials
Deposit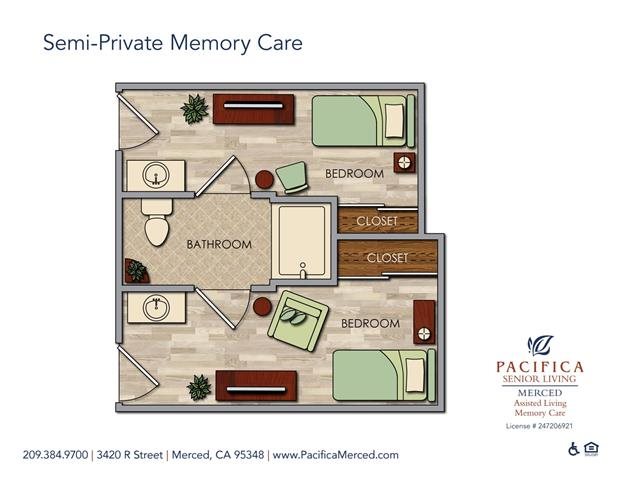 Retirement Homes in Merced, CA
Pacifica Senior Living presents premier retirement homes in Merced, CA, complete with everything your loved one needs to live their golden years to the fullest. What Mom & Dad can benefit from in our community is high-quality, personalized care carried out by a dedicated, compassionate team of professionals. With a special focus on the residents' wellbeing, our staff makes sure that they deliver the most appropriate care with respect and a warm smile. This way ensuring that those dearest to you can live in a welcoming atmosphere where they feel valued.
Our beautiful community offers a wide selection of floor plans, so that everyone can find the one that suits them best. The cozy studios feature lovely courtyard views, a spacious bathroom, as well as a fridge and microwave. Similarly, the one-bedroom layouts include a spacious bathroom and the same appliances, while laminate or carpet floorings are available, too. Our largest, two-bedroom floor plans have an inviting and airy feel to them, and may feature a twin-, full- or queen-size bed. Additionally, we also have well-appointed, private rooms for our Memory Care residents. They may come with private or semi-private bathrooms.
Regardless of which home they settle in, seniors will enjoy the same level of attention and care. Our 24-hour staff guarantees that both Assisted Living and Memory Care residents have all the help they need right away. Apart from this, we also want to ensure a stimulating environment for them, where their social, cognitive, and physical skills can improve, and ultimately, thrive. To do this, a rich host of events and activities fill their calendar and life with joy. Some highlights include regular outings to enjoy the outdoors, arts and crafts to boost creativity, exercise programs, parties, socials, among many others. Additional perks include three nutritional meals a day served restaurant-style, along with various healthy snacks. We allow residents to enjoy life, so we take care of chores, such as housekeeping, laundry, and linen service.
This and much more await at Pacifica Senior Living Merced. Get in touch with us to book a personal tour, complete with complimentary lunch.