Floor Plans
The Rodgers - Assisted Living Suite
(Contact for Availability)
Bed
Studio
Bath
1
Rent
Call for pricing
Specials
Deposit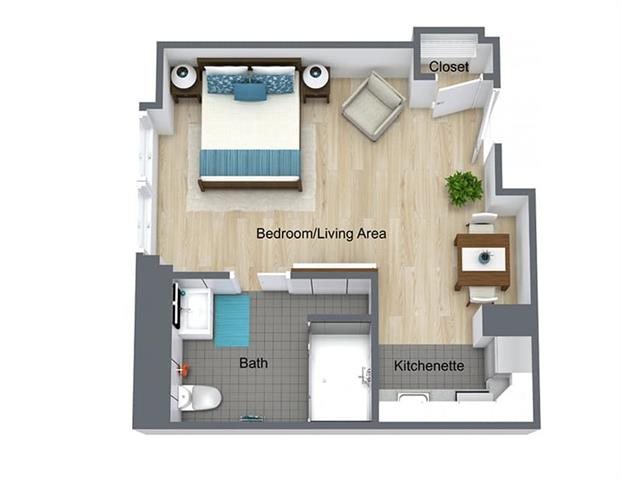 The Cooper - Memory Care Private Suite
(Contact for Availability)
Bed
Studio
Bath
1
Rent
Call for pricing
Specials
Deposit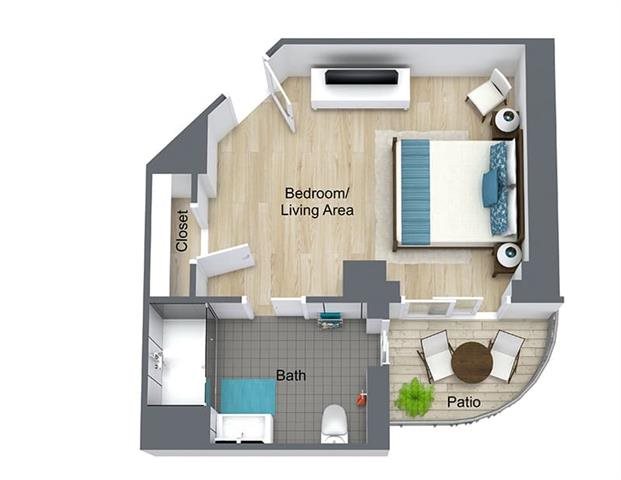 The Leigh - Memory Care Shared Suite
(Contact for Availability)
Bed
Studio
Bath
1
Rent
Call for pricing
Specials
Deposit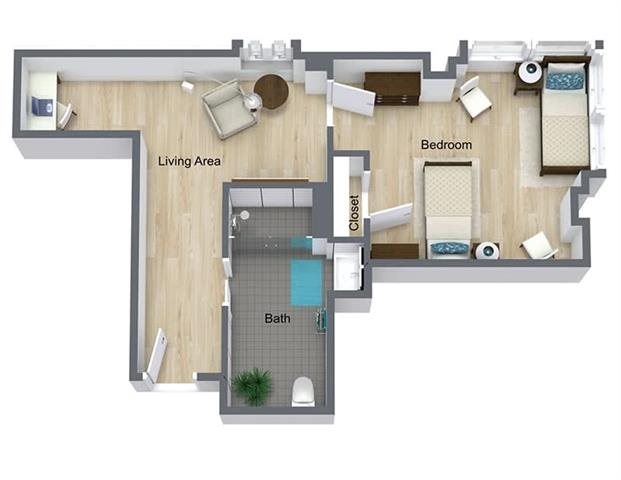 The Hayworth - Assisted Living Suite
(Contact for Availability)
Bed
Studio
Bath
1
Rent
Call for pricing
Specials
Deposit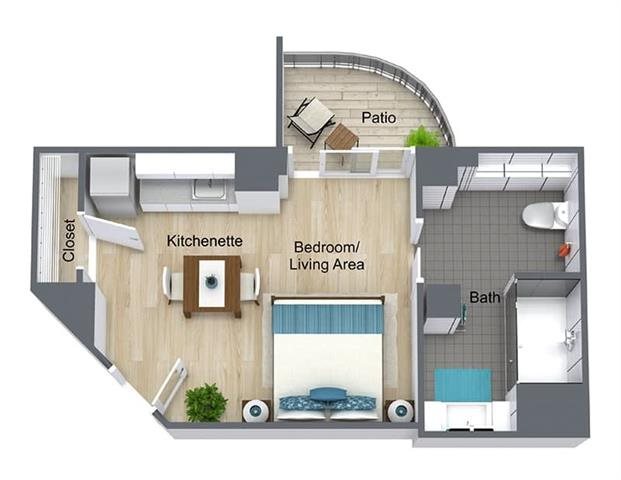 The Bardot - Assisted Living 1 Bedroom, 1 Bath
(Contact for Availability)
Bed
1
Bath
1
Rent
Call for pricing
Specials
Deposit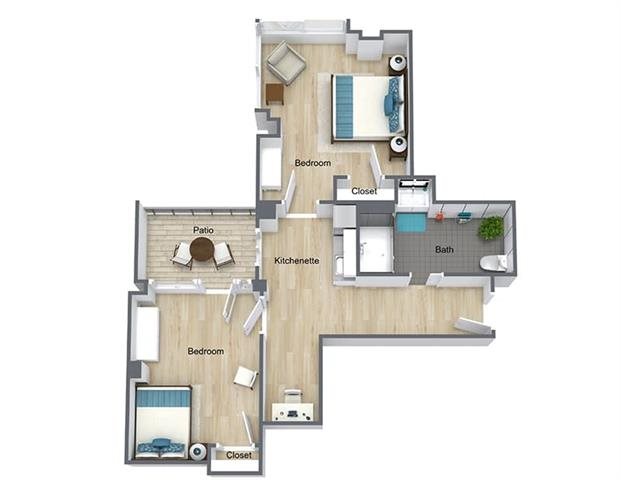 The Harlow - Memory Care 2 Room Companion Suite
(Contact for Availability)
Bed
2
Bath
1
Rent
Call for pricing
Specials
Deposit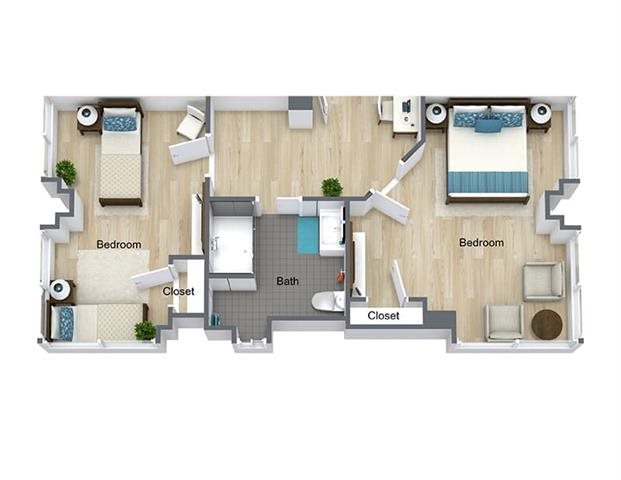 The Davis - Assisted Living 2 Bedroom, 1 Bath
(Contact for Availability)
Bed
2
Bath
1
Rent
Call for pricing
Specials
Deposit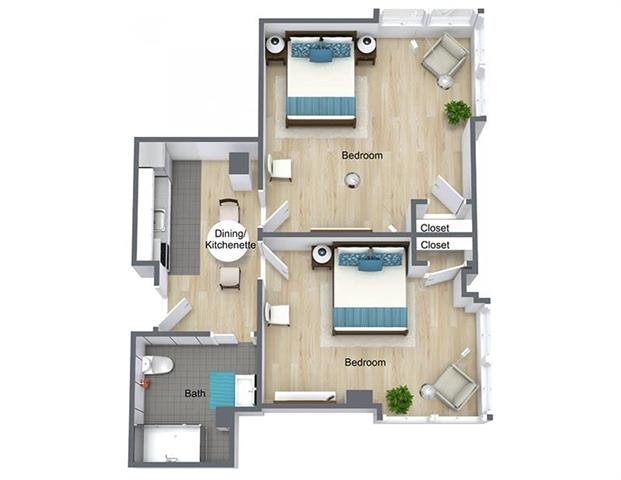 The Taylor - Assisted Living 2 Bedroom, 2 Bath
(Contact for Availability)
Bed
2
Bath
2
Rent
Call for pricing
Specials
Deposit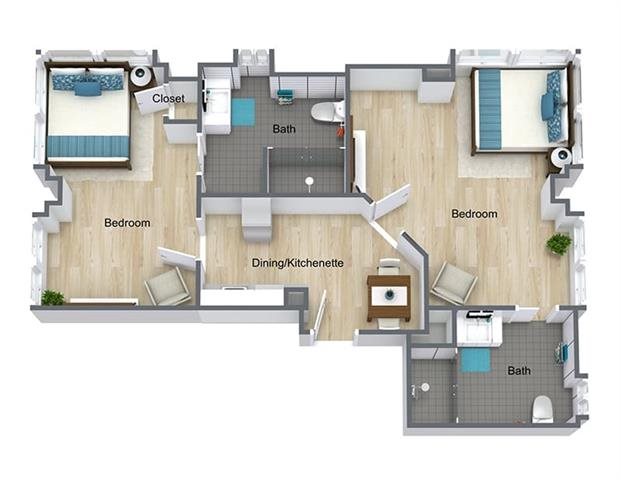 Senior Apartments in Los Angeles, CA
We believe our residents should enjoy a sense of independence and individuality, and our well-designed floor plans offer just that. Thoughtfully designed to meet the individual needs of each and every member of the Hollywood Hills family, our senior apartments in Los Angeles, CA feature all the little things that help your loved one live comfortably in retirement. Spread across ten buildings and one-story villas, our studio, one, and two-bedroom apartments help residents reap the many benefits a senior living community provides.
Residents can choose between 8 distinctively-designed layouts and have the option to live alone or enjoy the company of others. Each home is pet-friendly, comes with all utilities included, provides basic cable services, enjoys ample closet space, large bathrooms, and luxury finishes. To further enhance your loved one's wellbeing, select apartments come with a kitchenette and a private patio, and we offer daily housekeeping, apartment maintenance, and laundry services.
Our dedicated, professional team supports each resident and goes above and beyond to help them feel at home. Offering assistance with bathing, showering, dressing, and grooming, as well as escorting to meals, activities, and amenity spaces, our staff ensures your loved one will enjoy all the comfort it needs and deserves. We also host regular life-enriching events and activities, daily fitness classes, and we provide weekly wellness checkups, nutritious meals served restaurant-style three times per day, incontinence care, medication management, and many other individually tailored services. In addition, our excellent location right off Hollywood Boulevard offers easy access to a variety of shopping and health care services, religious establishments, and cultural and educational opportunities.
Stop by for a tour to discover all the perks your loved one will enjoy as an Assisted Living or Memory Care resident in our senior apartments in Los Angeles. Phone today to make an appointment!