Hollywood Hills, a Pacifica Senior Living Community is one where atmosphere and comfort come together. It is a community that blends the glitz and glamour of Old Hollywood with the latest in modern luxuries and services to provide our residents with a fulfilling lifestyle and the best possible care right here on the world-famous Hollywood Boulevard.
Occupying a genuine Hollywood landmark that was built by the family of 1910's and '20s film star Mary Pickford, our community has been a residence of choice for Assisted Living and Memory Care residents from all walks of life—including a few genuine stars too, like Jack Benny! We pride ourselves on our ability to combine the comfort and security of a community serviced by 24-hour care and the independence and unique atmosphere of being just minutes away from all of the history, fun, and excitement Hollywood and the rest of Los Angeles has to offer.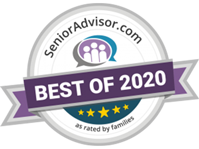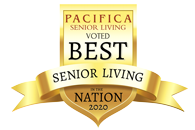 At Hollywood Hills, a Pacifica Senior Living Community, our residents will enjoy a lifestyle where every need is considered and every detail is crafted to make their day as enjoyable and comfortable as possible, a lot like life as a movie star, and here your loved ones are the stars. Our personalized care plans and treatment options—the cornerstones of life at Pacifica Hollywood Hills—are what allow our residents the freedom to enjoy their golden years to their fullest potential. Here, everyone is dedicated to ensuring the happiness and comfort of everyone in our community.
Our activities and amenities are as world-class as our neighborhood. From our gourmet, chef-prepared meals served three times a day and our full-service beauty salon to our dedicated arts & crafts room and private rooftop patio, we are committed to providing our residents with anything and everything they need to enjoy their days. And, of course, it wouldn't be Hollywood if we didn't have a large and luxurious movie theater for our nightly screenings.
Our community is also right in the heart of Los Angeles and is just a short drive from other famous attractions like the shopping and dining in Beverly Hills, the beach and pier at Santa Monica, arts and concerts at the Hollywood Bowl, sports at the Staples Center, and so much more. Give us a call or send us an email today to learn more about life at Hollywood Hills, a Pacifica Senior Living Community and experience the movie star life for yourself!