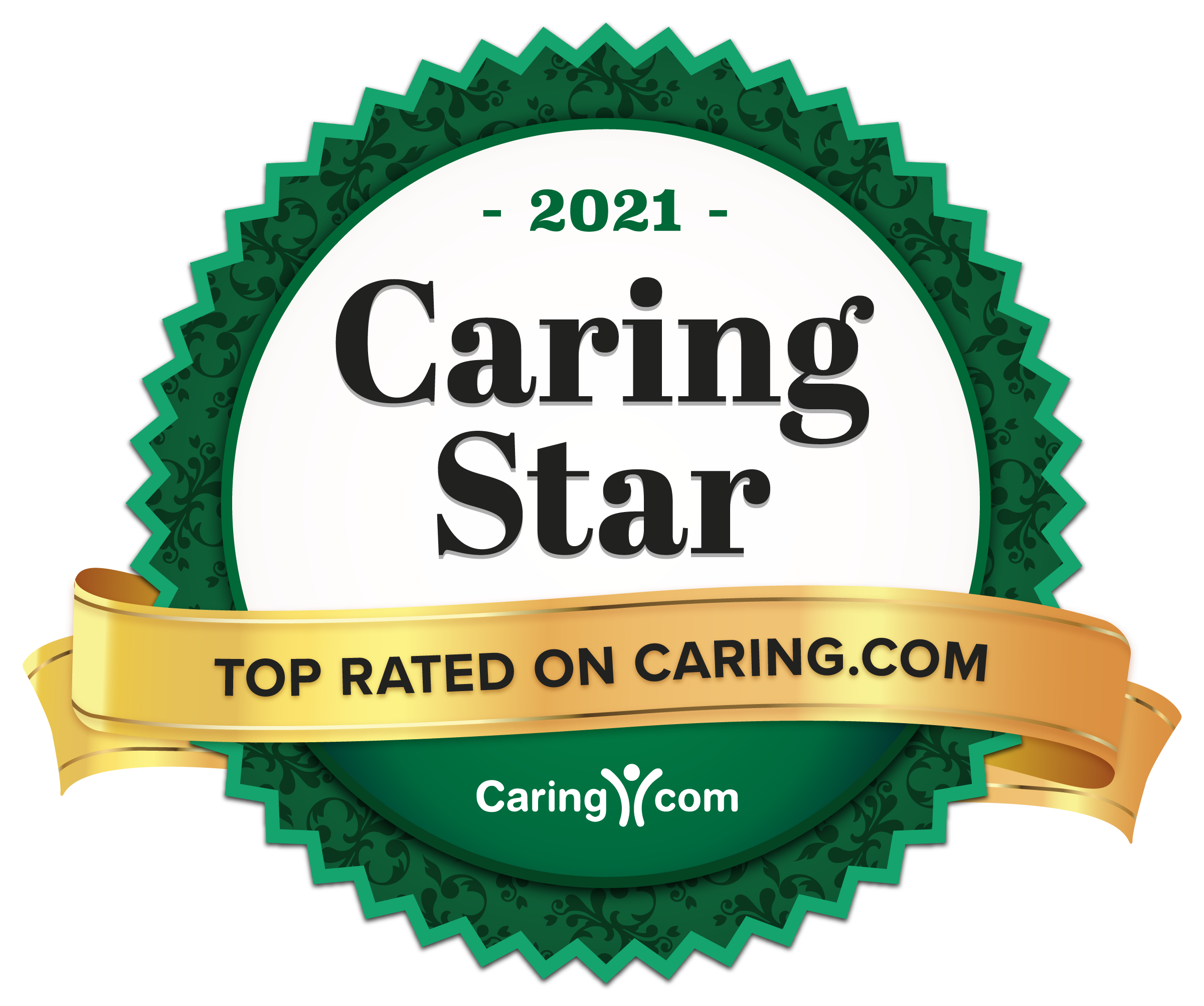 We are proud to congratulate Healdsburg, A Pacifica Senior Living Community on being named one of Caring.com's Caring Stars for 2021!
Healdsburg, A Pacifica Senior Living Community is pleased to announce it has been selected as a 2021 Caring Star for service excellence in senior living. In consumer ratings and reviews on Caring Pacifica Senior Living Healdsburg earned a 5-star rating (the highest possible score) within the qualification time frame, while also having a high volume of positive reviews, responding to any negative reviews, and meeting other criteria for this national honor.

"We thank everyone who has provided such great feedback to Caring about the excellence of our Healdsburg community" said Robert Matthews, Executive Director of Pacifica Senior Living Healdsburg. "We are proud to be recognized as one of the best communities in 2020 not just for our attentive care, delicious food, luscious gardens, dwarf goats, rabbits and chickens, but for the people of Healdsburg Senior Living. It is our wonderful residents, our outstanding staff and families like yours that truly make our community such a great place to live. Thank you, everyone, for working with us in making Healdsburg Senior Living, a Pacifica Senior Living Community the premier place to retire in all of Sonoma County.

Online reviews help Americans research and select the best senior living communities. Seniors and their families turn to the Internet and consumer reviews when narrowing their options among senior living communities in their area. They rely on these peer perspectives as much as personal recommendations from friends, geriatric professionals and medical personnel.

Originally published in January 2012 as the first of its kind, the Caring Stars annual list has become the go-to guide of the best senior living communities nationwide–particularly helpful to families new to this market, or when researching from afar and unfamiliar with local options. To be considered for the award, Caring Stars communities meet a set of criteria based on ratings and reviews from senior living residents and their family members. Caring senior care experts also conducted a reviews-integrity audit and other quality-assurance measures before determining the Caring Stars of 2021.

"Congratulations to Pacifica Senior Living Healdsburg for being among these highly-rated communities achieving such significant praise from their customers in online reviews," Caring's CEO Jim Rosenthal said. "They stand out as among the best in the nation."
Some of the positive feedback that led to Pacifica Senior Living Healdsburg being a Caring Star of 2021 includes:
"My Father in law moved to HBG Senior Living a couple years. The room is a good size. It's big enough for a queen size bed and a couch, a television, a recliner and several little end tables Its very convenient that it has a full-size refrigerator in it since he is in independent living and can go grocery shopping. We are so happy with the staff there. From the front desk to the kitchen staff, housekeeping, and Tony and Rob. He loves the garden and the animals. He walks around the facility four times every day. he says it equals a mile. He is super happy there and says he should've moved there years ago. He enjoys when the kids come from the school to do their "Communiversity" program. In this uncertain time, we appreciate the safety protocols they have implemented like taking the temperature of the staff before they enter the building."


"Staff treat my 95 year old Mother like family which has proven so important during the current isolation of residents. She is treated with individual caring that is reassuring since I am limited in what I can do for her. But even before that the facility was a comfortable place with a very homey vibe. The rooms are spacious, filled with light, Kept very clean and are either overlooking rolling lawns or the incredible garden. The garden! The passion of Tony F, a man who is truly in a job for which he is quintessentially suited. The garden, which was designed by Tony and is supported by an able team of gardeners, features an amazing variety of flowers, and in The summer vegetables abound. This year there were regular afternoon parties that featured whatever the garden was offering. My mother loved it. She also enjoys the antics of the three goats who live with some of the most beautiful chickens I've ever seen. There is tremendous heart here. Beth, commander of the front desk, brings so much sincere caring to her Job, I will be forever in her debt for the texted photos of Mom participating in activities-bingo, Yahtzee, root beer float parties, flower arranging-to name a few. These snaps help both my mother and me feel connected. Impromptu FaceTime calls, when Mom is having a bad day, are also so beneficial. An eternity of thanks to all these brave and generous people who have stepped into the role of family as well as caregivers."


"Our family is so lucky to have found Healdsburg Senior Living. The staff is kind and committed to making seniors who live there comfortable and cared for. Tony F. has the title of Marketing Director at Healdsburg Senior Living but he does much more than that. He is responsible for bringing so many wonderful events and programs to the property. This includes Music & Memory where Alzheimer's patients are paired up with the music of their youth and experience great joy and often clarity as they listen to the tunes. My beautiful mother loved the vast flower and vegetable gardens she could walk through. Caregivers or family are able to bring residents out for a walk or to sit and relax in the beautiful surroundings. School children come for visits to sing or chat with residents and then go out to see the gardens, where there are goats and chickens! We were able to design mom's room beautifully and she felt so at home. She was so happy to chat with prospective residents when Tony would bring them by to show them mom's room. Healdsburg Senior Living is one in a million. It should be the model for others to follow. We will always be grateful for Tony and the staff for caring for our mom as though she was part of their family."