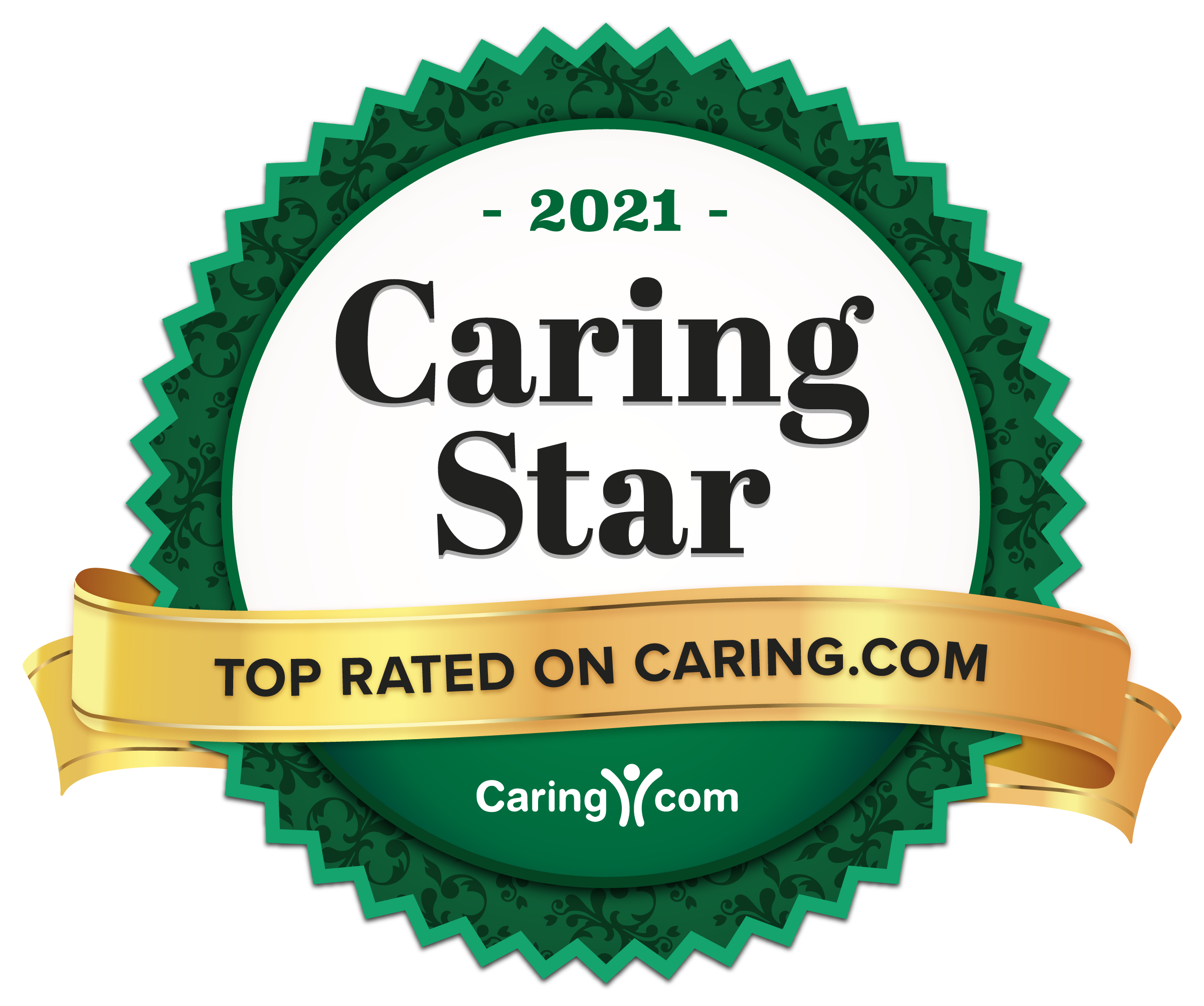 We are proud to congratulate Pacifica Senior Living Escondido on being named one of Caring.com's Caring Stars for 2021!
Pacifica Senior Living Escondido is pleased to announce it has been selected as a 2021 Caring Star for service excellence in senior living. In consumer ratings and reviews on Caring.com Pacifica Senior Living Escondido earned a 5-star rating (the highest possible score) within the qualification time frame, while also having a high volume of positive reviews, responding to any negative reviews, and meeting other criteria for this national honor.
"We strive to be the preferred senior living provider offering value, choice and independence while promoting health and social interactions, to exceed our residents' expectations," said Jackie Banks, our Executive Director of Caring star Pacifica Senior Living Escondido. "On behalf of our community staff and leadership, thank you those who shared positive feedback about us, and to Caring.com for recognizing us as a Caring Star of 2021.

Online reviews help Americans research and select the best senior living communities. Seniors and their families turn to the Internet and consumer reviews when narrowing their options among senior living communities in their area. They rely on these peer perspectives as much as personal recommendations from friends, geriatric professionals and medical personnel.

Originally published in January 2012 as the first of its kind, the Caring Stars annual list has become the go-to guide of the best senior living communities nationwide–particularly helpful to families new to this market, or when researching from afar and unfamiliar with local options. To be considered for the award, Caring Stars communities meet a set of criteria based on ratings and reviews from senior living residents and their family members. Caring senior care experts also conducted a reviews-integrity audit and other quality-assurance measures before determining the Caring Stars of 2021.
"Congratulations to Pacifica Senior Living Escondido for being among these highly-rated communities achieving such significant praise from their customers in online reviews," Caring's CEO Jim Rosenthal said.

"They stand out as among the best in the nation."
Some of the positive feedback that led to Pacifica Senior Living Escondido being a Caring Star of 2021 includes:
"I have only been here in Pacifica Senior Living for about three weeks now, but my experience is very good. The staff is wonderful. They're very caring, they're good listeners, they're always available, they're helpful, they're kind, and they don't get impatient; they have a very nice staff. I don't participate much in the activities. I've lived in senior living for about 18 months. I love it here!"


"I visited an old friend that lives in the community and I was very impressed with the staff and how they are making sure they are following all covid 19 protocols. It made me feel safe and secure especially knowing that my friend is being protected. She was very happy and enjoys her meals, telling me that she eats well and really enjoys ice cream sundaes for dessert. She also told me she enjoys playing bingo and poker and the chair chi exercises. I'm glad that she has friends and she is still active. I would totally look into this place when I get a little bit older."


"My 72-year-old mother has resided at Pacifica Senior Living in Escondido for more than five years and I must say that choosing this facility was the best & hardest decision my sister and I have ever made. Due to the great leadership of Pacifica management, my mom has felt safe and independent. With the managers focus on love and hospitality, my sister and I feel a big sense of relief knowing mom is happy. We recently asked mom if she would like to come live with us and she said, "No thanks honey, I would miss my friends too much." Thank you to Pacifica and staff, for creating a home environment and loving the residents like family!"