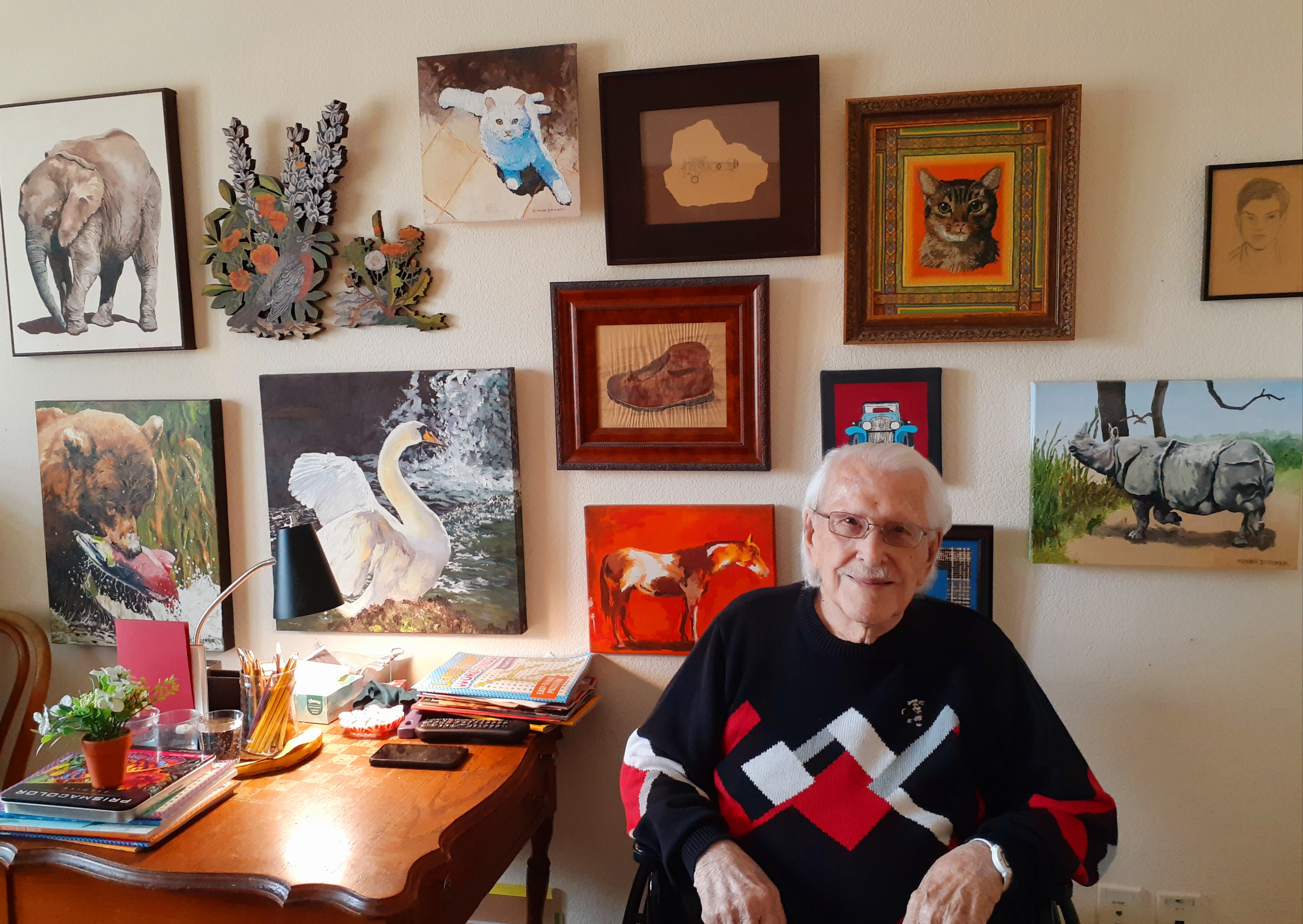 After a lifetime of traveling all over the world, Vernon D. settled at Pacifica Senior Living Union City in Northern California. For the past year and a half, the residents and staff have had the pleasure of getting to know this very talented, cosmopolitan gentleman.
Born in Sanger, California, Vernon has been an art lover from his earliest years in grade school. Although he loved art from a young age, it wasn't until high school that be began painting, then even tried out needlework his senior year. As many young men his age did, after graduating, he joined the United States Army. He served during World War II and was assigned to be a radar operator at Guadalcanal, located in the Solomon Islands, a neighbor to Australia and Papua New Guinea. While in the military he traveled across the world and had the opportunity to visit a good number of countries and experience their cultures.
Never losing that love of painting he developed in high school, in true artist form, he endeavored to put his experiences on the canvas, and a survey of some of his work reflects his rich life experiences around the world. His paintings are often inspired by the places he's visited, and they serve as portals to these other parts of the world, inspirations you see on the wall from a snapshot taken from a place he once visited.
The painting of an elephant and rhinoceros was inspired by a visit to Kenya and Tanzania. The large beautiful bear catching and eating a salmon was the result of an especially memorable trip to Alaska. A scan of his walls reveal a tapestry of adventures and vivid memories captured with his brushstrokes.
For many years, Vernon was also a member of an art gallery in Los Gatos, California and his work was shown there for years. He enjoyed being a member of the gallery and proudly displayed his art, allowing others to see a part of his life captured in frames filled with color and fueled by memories.
Today, life is a little simpler and relaxed. Vernon now enjoys bingo, Connect Four, and yes, he still paints. He loves to reminisce about his travels and the many places he's seen, and his fellow residents and staff enjoy hearing his stories. We count ourselves thankful for the opportunity to get to know Vernon and we are grateful for his service to his country. We salute you, Vernon!