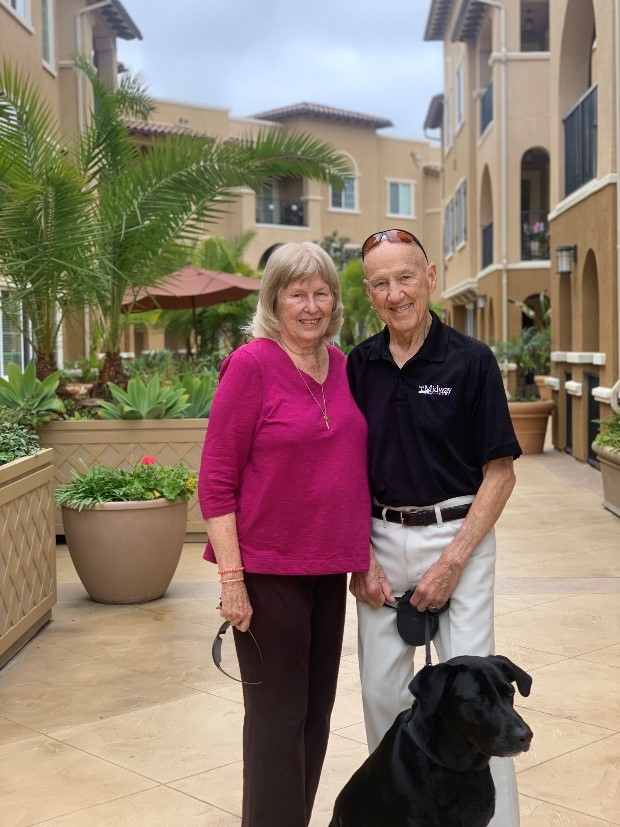 Meet Mel and Judy Taunt, residents of The Meridian at Lake San Marcos and their dog, Sophie. Their story began in 1959 in Coronado, California when they first met. Mel was a naval officer stationed in Coronado, and Judy was home from college in between semesters. They met, fell in love, married in April 1960, and had two children.
Mel dedicated 30 years of his life to being a Naval Pilot. He was stationed in many places throughout the world. Check out this photo of him wearing his flight suit! It still fits! He retired from the Navy having achieved the rank of Captain.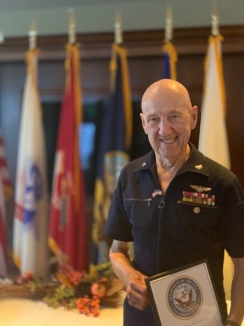 Judy holds a bachelor's degree in Computer Science and a master's degree in Counseling Psychology. She is also a Registered Nurse and ordained minister, and enjoys practicing Qigong (pronounced chee-gong), an ancient Chinese exercise and healing technique that involves meditation, controlled breathing, and movement exercises. Across the many accomplishments of Judy's life, her favorite job was working as an RN for the Navy Relief Society. During her tenure with the NRS, she traveled across the world helping active duty personnel and their families.
Throughout their careers and into retirement, Mel and Judy were extremely active in Rotary, having both held leadership positions. Between the two of them they have over 68 years active in Rotary, and it's clear they both have spent their entire lives helping and serving others.
Mel and Judy heard about The Meridian from their son and had looked at five senior living communities before choosing us. They like the Lake San Marcos neighborhood, and they feel that we truly have something for everyone and enjoy being able to continue their lifestyle here at the community.
When we asked Mel and Judy what their secret to staying healthy was, they said you must practice something every day! Find the passion in something and that will keep you going!