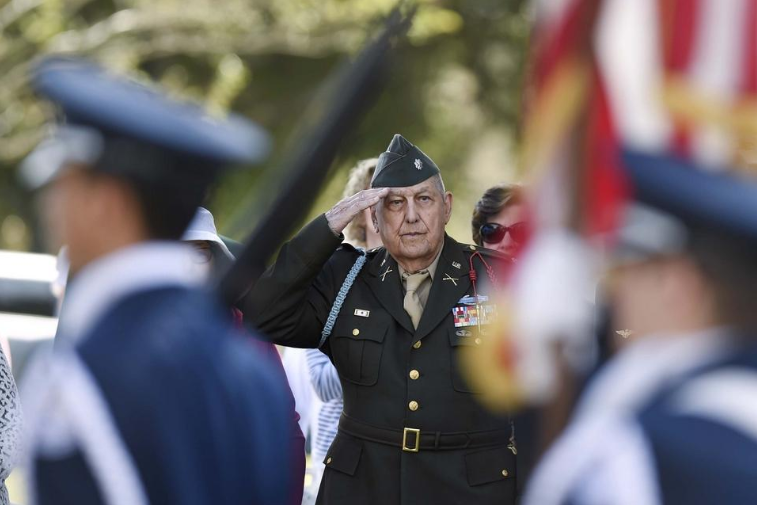 Lieutenant Colonel Sam Lombardo has been a resident at The Meridian at Westwood for nearly four years, and to know him is to love him. His vibrant personality, unflagging optimism, and admirable energy make him someone everyone wants to get to know. If you were to look up "hero" in the dictionary, it wouldn't be any surprise if his name popped up. He is one of those individuals who make us realize the extraordinary lengths people have gone to in our country to protect our freedom. Not only does he have at least 15 medals*, one of them is the prestigious Silver Star, the third-highest combat decoration a military member can earn, presented to those who deserve to be recognized for gallantry in action. Last year, when Sam turned 100 years old, the local Pensacola Journal featured some of his distinguished career highlights in an article you can read here.

Born July 12th, 1919 in Samo Di Calabria, Italy, and after living the first 10 years in his native land, his family landed at Ellis Island on October 3, 1929 and then moved to Pennsylvania. He then enlisted in the Pennsylvania Army National Guard's 28th Infantry Division a month after the outbreak of hostilities in Europe during World War II. He graduated from Officer Candidate School at Ft. Benning in July 1942, and was deployed to Europe as a platoon leader of infantrymen and named the executive officer of 1 Company, 394th Infantry Regiment, 99th Division, and led a rifle platoon in the Battle of the Bulge.
During the battle, Sam was homesick for his flag after not seeing one for over a month and a half. When he could not receive one through various official channels, he decided that his men would make their own. It took over two and a half months, working in German cellars by candlelight while the platoon was in reserve. The American flag they created is now proudly displayed in the National Infantry Museum at Ft. Benning.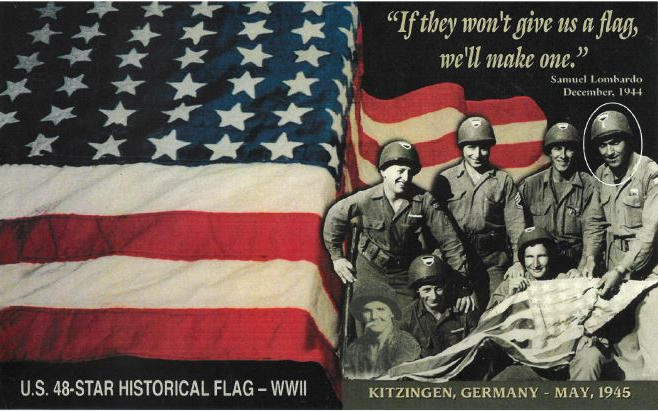 We've shared a postcard of Sam and his follow soldiers along with his quote, "If they won't give us a flag, we'll make one." His patriotism remains unwavering to this day and stands as a shining example of someone willing to risk all for the sake of freedom.
Sam continued to serve his country during the post-World War II occupation of Japan, in Korea during the Korean Conflict and in the Vietnam War. Though retired, he has continued to attend various veterans events, speak to students about his experiences, and share his wisdom with all who are interested. On June 18, 2019, the Okaloosa Board of County Commissioners presented Resolution 2019-82 designating July 12, 2019 as Samuel L. Day in Okaloosa County in recognition of Sam's 100th Birthday. In addition, he and a few fellow WWII 100-year-old veterans were also honored in the 2019 Super Bowl as participants in the coin toss to kick off the game.
This month Sam celebrated his 101st birthday at Westwood, and chose to celebrate by having a steak dinner with a few of his fellow Meridian friends.
Thank you Lieutenant Colonel Lombardo for not only being a national treasure, but for blessing the Meridian at Westwood with your kind and generous spirit and unflagging loyalty to your country.
We salute you.
*Medals awarded: the Silver Star, the Bronze Star with "V" for valor as well as an oak leaf cluster for meritorious achievement, the Army Commendation Medal, the Army Good Conduct Medal, Combat Infantryman Badge, American Campaign Medal, European African Middle Eastern Campaign Medal with three Campaign Stars, WWII Victory Medal, National Defense Service Medal, Armed Forces Reserve Medal, United Nations Medal, Vietnam Expeditionary Forces Medal, French Legion of Honor, the Belgian Fourragare and the Republic of Korea Presidential Unit Citation.