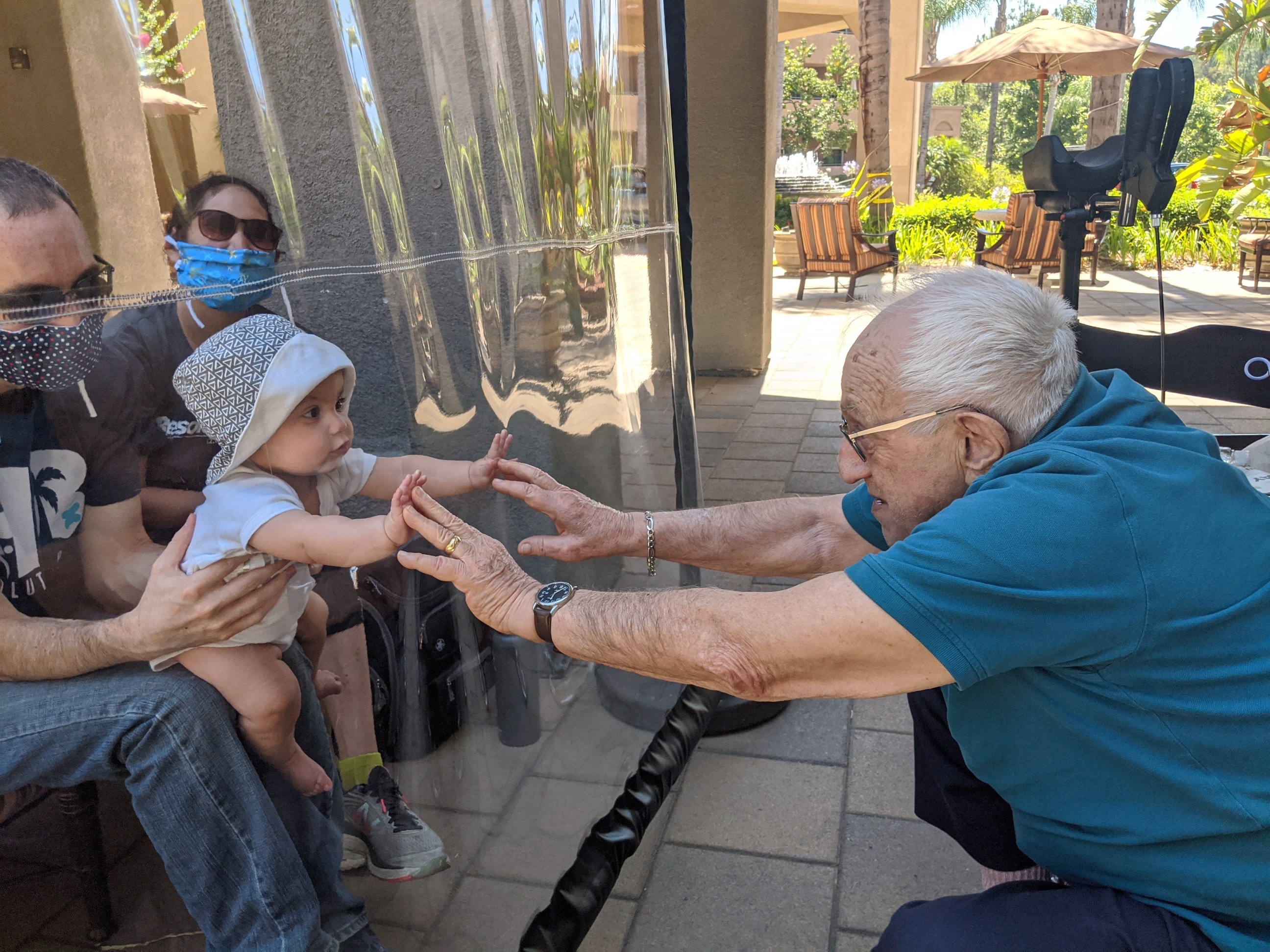 It's been said that a picture is worth a thousand words. For our 94-year-old resident Cy and his 9-month old great-granddaughter Elyse, it may be worth a million. Cy is a resident at The Meridian at Anaheim Hills and he, as many other seniors around the country, have been carefully sheltering in place against COVID-19 and its ravaging power for the last few months. This picture documents a beautiful moment when the plastic barrier between he and his family seems to melt away. Since opening up to supervised and socially distant visits a few weeks ago, his family has been bringing Elyse to visit. They each sit on opposite sides of the plastic barrier, but its pliable and it allows them to "touch" through the plastic. It's not perfect, but it serves as a vehicle to help Cy see his loved ones while still being protected.
Our world has been turned upside down in the last few months and as we grapple with ways to protect our residents in the midst of this pandemic, we also recognize another danger lurking; the prolonged separation of residents from their families and friends. For those of us who are relatively active and healthy it has been tough to stay home at times, and we often feel a little stir crazy, but for our residents, it is much more challenging. That's why we are looking at ways we can engage our residents without compromising their safety.
In the last few weeks, every Pacifica Senior Living community was sent a large plastic barrier screen for use with family and friend visits. As teams have put them in place and started filling visitation logs with appointments, the feedback has been incredible. There have been tears, overwhelming joy at seeing their loved ones, and gratefulness that we are providing a way to get family and friends face-to-face with each other while taking reasonable precautions. Our Facebook pages are filled with pictures of these visits, but this picture of Cy and Elyse still seems to capture it best; the power of connection despite any barrier. It illustrates that even in the midst of very trying circumstances, love still finds a way, even through plastic.