Attn: Pacifica Senior Living Residents, Families, Staff, and Loved Ones
Pacifica Senior Living continues to focus on resident care and safety at this time. Shipments of personal protective equipment were sent to each community and continuing shipments will be provided to ensure our staff has all the safety equipment they need today and in the future. We will continue to update our website with new information as it becomes available. To demonstrate our appreciation, outdoor banners stating "Heroes work here!" have been placed at our communities to celebrate the continued dedication and show our appreciation of our hardworking staff. Our policies and procedures during this period have remained constant and are outlined below.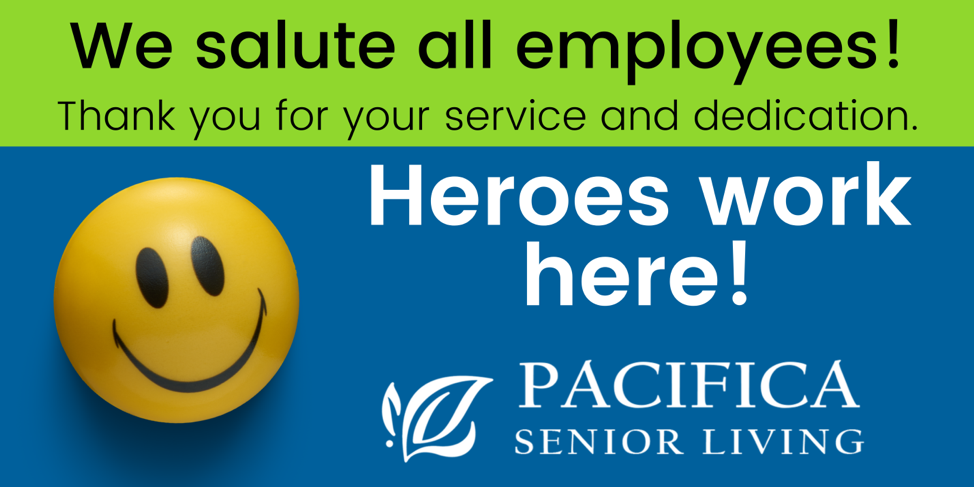 Ensuring the health and well-being of our residents and employees remains our first priority and with the new COVID-19 Novel Coronavirus, we are following all recommended guidelines from the Centers for Disease Control and Prevention (CDC).
For the safety of our residents, all guests are discouraged from entering our communities.

We are conducting virtual tours for new potential residents and their families.

We are postponing social events and excursions for the safety of our residents.

Staff and residents are being screened including having their temperatures taken daily.

We are conducting additional screening for new residents to ensure they have not been exposed to COVID-19 or visited affected areas.

Encouraging family and friends to conduct virtual visits and call frequently to stay connected with their loved ones.
Additional protocols include:
Closing and restricting dining room service, including serving meals to residents in their own private apartments.

We are encouraging staff and residents to practice social distancing.

We are following all recommended safety precautions by the CDC and state and local health departments regarding personal protection equipment.

All staff and essential visitors required to enter the community must enter through the main entrance for screening and safety protocols.

Heightened focus on disinfecting and cleaning common areas and high-touch areas like doorknobs, elevator buttons, faucets, and handrails

Reinforcing COVID-19 Screening and disinfection control training for all employees
Our Resident health & safety is always our top priority and we thank you in advance for helping to support us in our company-wide efforts to keep our community COVID-19 free.
Sincerely,
The Pacifica Senior Living Team
For additional information, please refer to the Centers for Disease Control and Prevention here.