Skilled Nursing
We are continually looking for what we can do for the residents, for their family and their support systems. Because of this, Scottsdale Village Square in Scottsdale, AZ, offers a continuum of care for residents with a dementia diagnosis or cognitive impairment. Our skilled nursing facility near Phoenix is fully equipped to handle a variety of situations, ready to assist each resident with challenges as they arise. Our goal is to help each resident make the most of each new day by serving their needs to the best of our ability.
We offer not only our support on the physical recovery but also the emotional support needed. We make sure residents are given the respect, dignity, and privacy they deserve. As part of our Pacifica family, you'll notice that rather than replicating the typical, cold environment of a hospital, we offer a welcoming, inviting, and warm atmosphere, where taking care of seniors is an honor. Depending on their needs, your loved one will be given oxygen, speech, and physical therapies, plus anything else required — phone today to schedule a tour to meet each other and discover our community.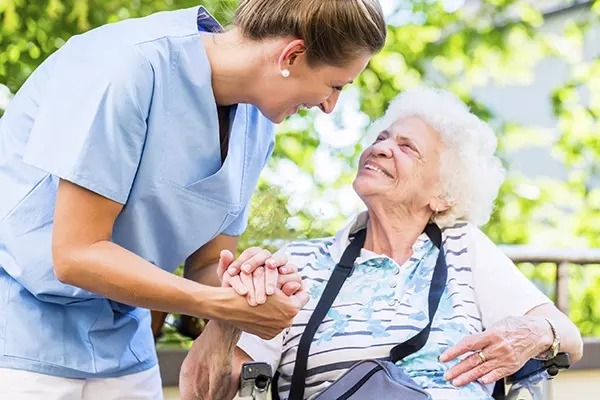 Frequently Asked Questions
What are your visiting policies and hours?
There aren't any designated visiting hours. However, our outside doors are locked after hours for the safety and wellbeing of the residents, staff members and visitors.
Can I bring a pet to visit a resident?
Yes, we are a pet friendly community. Please keep your pet on a leash.
Do you offer Respite Care?
We offer a Respite stay in our community except in our short term rehab.
Can I leave the Skilled Nursing center to go home on a visit or to go on an outing?
Yes. If the resident is stable and has their physician's written approval.
Is transportation available for follow-up appointments?
Yes, we have a van to assist in transportation to doctor appointments. Contact the Social Services Director to coordinate transportation.