Memory Care
Memory Care is a unique level of assisted living services that take into account the special needs of those who struggle with their cognitive and social abilities.
You Don't Have to Deal with Alzheimer's Disease Alone
We've been serving seniors in the north valley in Phoenix for over 15 years and are reinvigorated after our renovation which focused on beauty as well as function in our cottage community. Each of our compassionate team members goes through additional training focused on the latest research in memory care, and we have monthly and annual requirements for as long as they work at Pacifica Senior Living Paradise Valley, Arizona.
Secure Freedom
Security and health are critical priorities when it comes to sustaining the wellbeing of our residents. Whereas the activities and relationships we build, result in further growth and joy. Life, of course, isn't just about surviving, it's about thriving. Programs like storytelling, life skills, and arts and crafts all contribute to brain health and emotional connections. We even encourage residents to bring their furry family members as long as they are able to provide most of the care for their pets. This pet-friendly option for seniors is something that sets us apart from many other memory care facilities.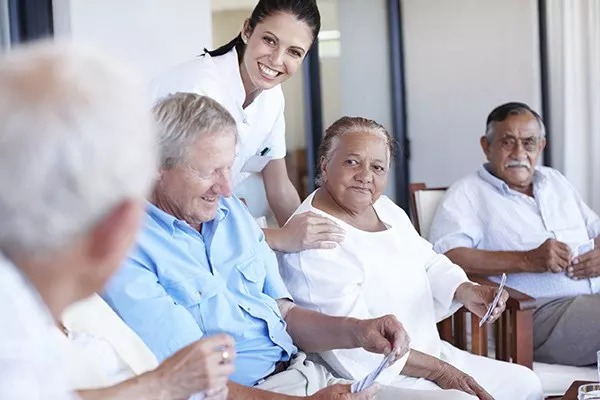 Our community provides:
A caring, home-like environment
Dementia-specific activities program
24 Hour professional team, with Licensed Nurses available 7 days a week
Furnished private or companion accommodations, each with its own bathroom
Support for difficult behaviors
Full-service beauty and barbershop
Three meals served daily, plus snacks
Lifetime fixed pricing
In addition to all of these add-ons and activities, we cover all of the basics with compassion and competence. Each residency includes a shower and grooming assistance, transportation off-site as well as merely to activities in other parts of the property like the beauty salon, help with eating meals and snacks, and more. Our property is visited regularly by professionals like doctors, podiatrists, dentists, and lab technicians. Your loved one won't have to concern themselves with laundry or housekeeping and can simply enjoy life in a beautiful, vibrant place.

For those in your life who need memory care in Paradise Valley, AZ, we hope you will consider Pacifica Senior Living Paradise Valley. Our friendly team is ready to take your call or show you around our cottages on a personal tour. See you here soon.